The world is ending, Liverpool lost their last three games in a row and it seems as if they are slowly imploding. THIS IS SUCH A BEAUTIFUL SIGHT TO SEE! Their manager Jurgen Klopp has made excuses blaming different factors on Liverpool's losses, whether it be a faulty ball, bad weather, the list just goes on and on.
There is only one explanation as to why Liverpool continues to lose, and his name is Daragh Curley. Daragh is a 10 year old Manchester United fan who wrote to Klopp asking him to stop winning games because "They were winning too many games"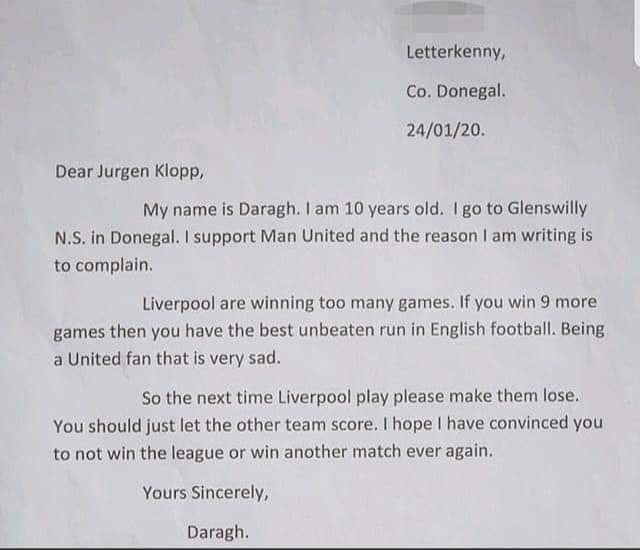 Since Daragh has sent this letter to Jurgen, Liverpool has lost their last 3 consecutive games, 1-0 to Atletico Madrid in the Champions League, 3-0 to Watford in the EPL, and 2-0 to Chelsea in the FA Cup. Will the streak continue? I know all the Manchester City fans are praying for this streak to never end, and all the Liverpool fans are probably going to protest in front of this poor kid's house.
BUT WAIT!!!! IT GETS WORSE!!! There are also reports that the Coronavirus could make the Premier League Title become null if the coronavirus affects England. The scary part is that not too far away in Italy, the government has just ordered that all sporting events are to be played behind closed doors until April 3rd due to the outbreak.