Oh my soul what a glorious day. The blogging hiatus has been real, I know. For that I do apologize. I know that my blogs, as the kids say "give you life" and what not. What a headline to come back on though, right?
51 years and one awesome movie later a legit team of code crackers claim to have the Zodiak Killer all figured out.
Before going into how this cipher fits into Zodiac's known writings and activities, here's a little background on the methodology. The 340 cipher — so-named for its number of characters — was solved by an international three-person team of codebreakers: American computer programmer David Oranchak, Belgian computer programmer Jarl Van Eycke and Australian applied mathematician Sam Blake. Using Van Eycke's codebreaking software, Blake was able to run over 650,000 simulations to determine the correct reading direction of the characters.

WTAE
If you thought the name was going to be more normal than Jarl Van Eycke you just never understood the original complexity of the code. That's absolutely the name of a guy who can crack the code. In fact, that's a James Bond chair guy name. Or a villian. He may be the Zodiak Killer at this point.
If you're unaware and just flat out hate crime stories the Zodiak Killer was a notable serial killer in the Late 1960's. The movie is just electric. I may tell the movie guys to review that show soon in honor of this moment despite its clear lack of actual world importance.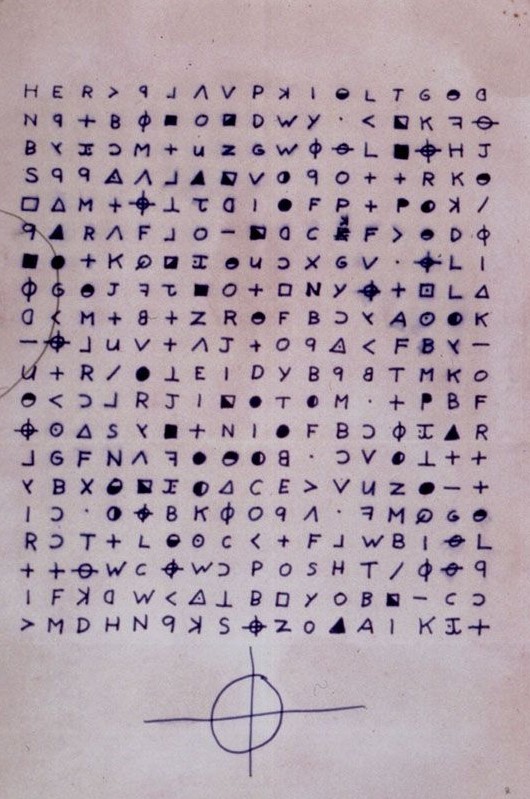 The weirdest part about all this to me is that someone made this stupid code. I'm a self proclaimed stud at cross word puzzles, but this is just a task that I'm glad we have people like Van Dinkle Eycksin to solve.
I HOPE YOU ARE HAVING LOTS OF FUN IN TRYING TO CATCH ME

THAT WASNT ME ON THE TV SHOW

WHICH BRINGS UP A POINT ABOUT ME

I AM NOT AFRAID OF THE GAS CHAMBER

BECAUSE IT WILL SEND ME TO PARADICE ALL THE SOONER

BECAUSE I NOW HAVE ENOUGH SLAVES TO WORK FOR ME

WHERE EVERYONE ELSE HAS NOTHING WHEN THEY REACH PARADICE

SO THEY ARE AFRAID OF DEATH

I AM NOT AFRAID BECAUSE I KNOW THAT MY NEW LIFE IS

LIFE WILL BE AN EASY ONE IN PARADICE DEATH

WTAE
Oh. So the dude was a psychopath. Called it.