On Thursday, I put out a video announcing that I am on the market for a new college football team since the Nittany Lions are the joke of the Big Ten.
So, admittedly, I did watch the Nittany Lions lose to Nebraska this weekend. But in my defense, I only did so because I wanted to see if the coaching staff would actually nut up and pull Clifford if he was trash (there was no "if", this was a given). I was pleasantly surprised that they did in fact pull him, even if it was too late. While I've given up on them this year, this game restored a small amount of faith in this program moving forward.
Having said that, I'm still looking to "sign" with either Coastal Carolina, Liberty, Oklahoma State, or Buffalo. I'll be making my decision and releasing my official signing day video this week. But in case you missed it, let's break down these four teams.
What was I looking for? As I said in my initial announcement, there were three main factors:
I want to choose a team that I had next to no knowledge of so that I can have a completely fresh start.
I probably want to choose a team that is not a P5 team (I know, I made an exception for Oklahoma State).
I want a team that's at least exciting to watch, because lord knows that's not Penn State.
Other factors I'll be looking at:
Team's record against the spread (degenerate CFB gambler here)
What's the team's uniform situation?
Team's X-factor (whether it's a player, coach, mascot, etc.) that could put them over the edge
Their performance in the last game played
I'm SO ready to be a bandwagon fan. Let's get started.
Coastal Carolina – Sun Belt (7-0)
Do I know a ton about this team?: They're the Coastal Carolina CHANTICLEERS (!!!) and they play in the Sun Belt. No, I know basically nothing about them. Could find myself looking forward to figuring out what a Chanticleer is.
Power-5 Team?: No – CC is coming up HUGE repping the Sun Belt
Exciting to watch?: Grayson McCall (sounds like a big time lacrosse name) apparently has a 16:1 touchdown to INT ratio. This team is the definition of "wheel route". They win by more than three TD's per game and are 6th in the nation in passing downs success rate. Yeah, they're pretty cool to watch.
Record against the spread: 4-0-1 ATS in their last 5 games ($$$)
Uniform situation: Nothing special I guess. I do really love that teal, though.
X-Factor: So, apparently these guys had a WWE type celebration after one of their wins this year. And they do something just as outrageous every week. F**k, that locker room looks ridiculous.
Last in-game performance: Beat South Alabama 23-6 last weekend, game against Troy was cancelled this past weekend. Still unbeaten.
#22 Liberty – Independent, 8-0
Do I know a ton about this team?: Besides Liberty University sounding like an online college than DeVry ever could, I didn't know anything about them going into this. Oh, and Hugh Freeze coaches there.
Power-5 Team?: Nope, we got ourselves an strong Independent woman.
Exciting to watch?: Good god, Malik Willis highlights have been gassing me up for the past week or so. This man is unreal. Nine yards per carry, 12:1 TD to INT ratio, average of over 13 yards per catch for his top 3 receivers. This offense is awesome.
Record against the spread: 5-0 ATS in their last 5 games. Sheesh.
Uniform situation: Absolutely in love with their all-red set up. Helmet's clean and overall just pretty sleek. However, the fact that they're the Liberty Flames and their logo is a bird is a little iffy. Doesn't take away that much though.
X-Factor: This is the best thing I've read in years as it pertains to college football… Hugh Freeze once coached an entire game from his hospital bed after surgery to treat a life-threatening staph infection. Married. To. The. Game.
Last in-game performance: Beat Western Carolina 58-14. That's whatever, but it should be noted that they have also beat Syracuse and a decent Virginia Tech team this year.
#14 Oklahoma State – Big 12 (5-1)
Do I know a ton about this team?: Definitely more than the others. Chuba Hubbard = good. Defense = good, especially for a Big 12 team. Cowboys are pretty cool I guess, too.
Power-5 Team?: Yes (whoops)
Exciting to watch?: Every Big 12 game has potential to be something special on the scoreboard, and with Oklahoma coming up, I don't expect anything else but a shootout.
Record against the spread: 14-6 ATS in their last 20 games. Not a 100% lock, but not bad. One thing that SHOULD be noted though is that the under has hit in their past 8 games. Just something to think about…
Uniform situation: Some of their set ups are sick, especially their throwbacks. However, some of them are a little… much.
X-Factor: Mike Gundy's hair, and the fact that he's still a man and he's STILL forty.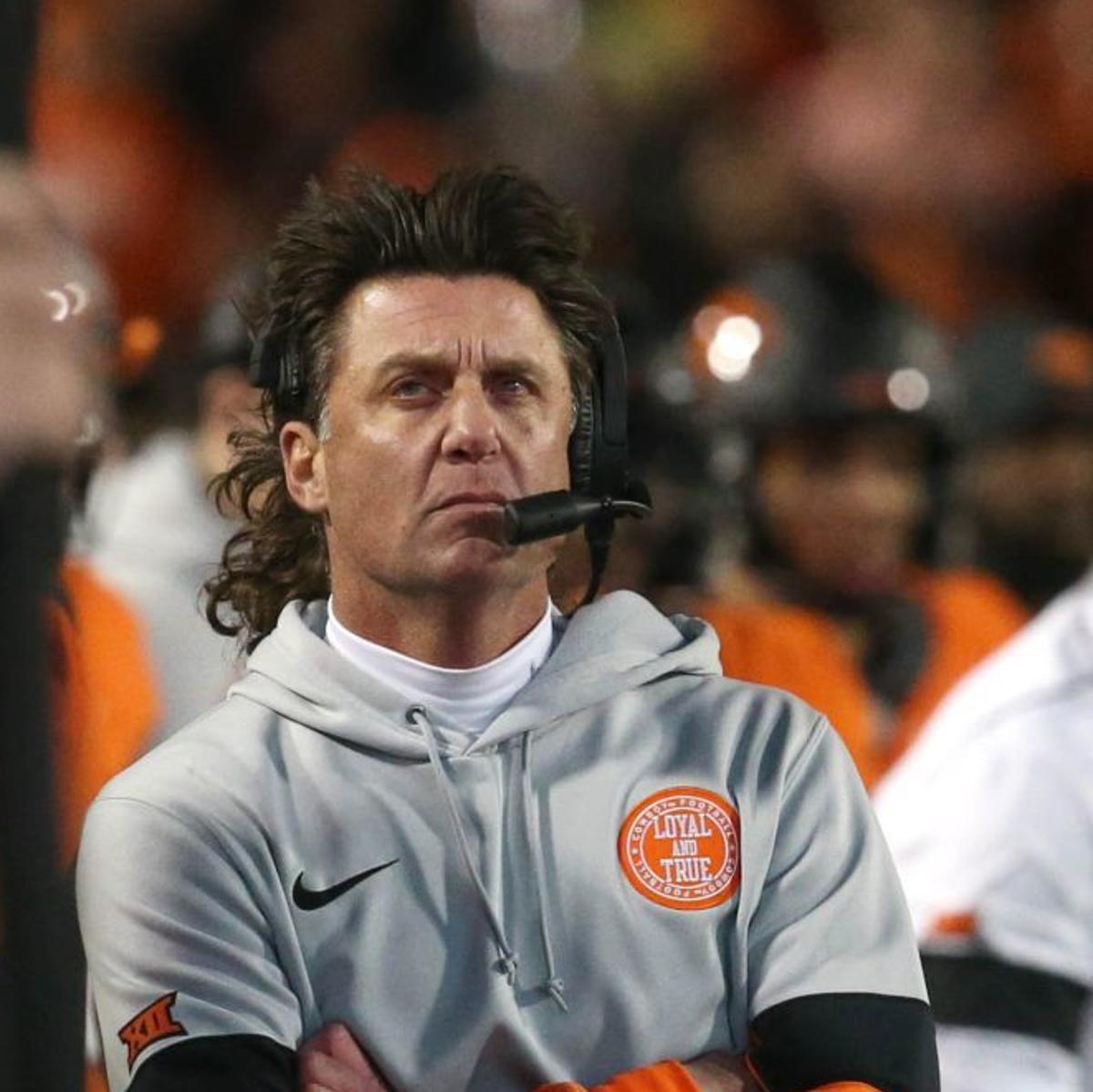 Last in-game performance: Beat Kansas State 20-18 in a squeaker last weekend, but have Oklahoma this weekend. Giddy up, Gundy.
Buffalo – MAC (2-0)
Do I know a ton about this team?: Khalil Mack… that's pretty much it.
Power-5 Team?: Nope, but they're part of MAC-tion, which is definitely something to be proud of (for its own reasons).
Exciting to watch?: So, they're one of the better teams in the MAC and seem to have a pretty good passing game. But the real entertainment here is MAC-tion…. MAC-tion.
Mind you, this was legit the first play all year in the MAC. Granted, the play on the field isn't always pretty, but my God is it entertaining. The MAC is truly the reason I might end up picking this team, because who would complain about watching MAC football all year?
Record against the spread: 5-0 ATS in their last 5 games. Good for you, Buffalo.
Uniform situation: Idk, it's a MAC team. They're fine I guess.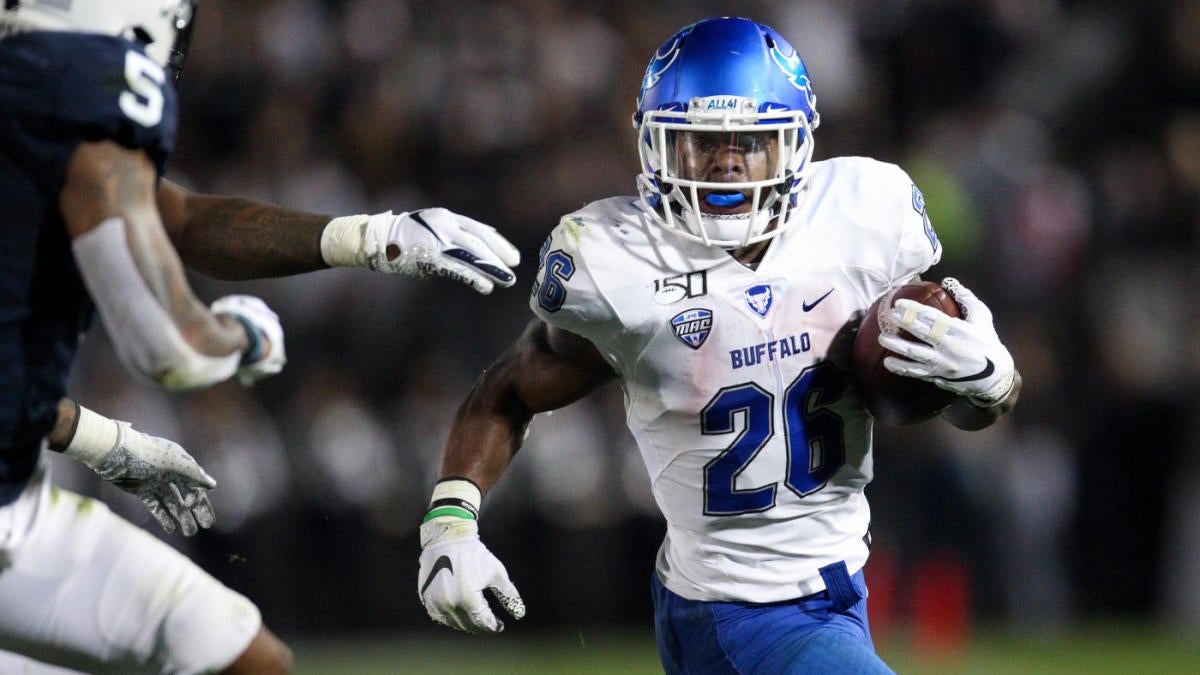 X-Factor: MAC-tion. In case that wasn't clear yet…
Last in-game performance: Beat Miami-OH 42-10… MAC-tion.
---
Signing Day is approaching, stay tuned.