Following up from my honorable mentions are moments 6-10 in the best sports moments of the decade. My honorable mentions I believe were awesome, but were based more on things I personally enjoyed as opposed to catering to the casual sports fan. However, these top 10 moments are ones that will live forever and that no one should ever forget. This list will focus on moments 10 through 6 as we will wrap up the 2010's in sports on Friday.
10. Leicester City wins Premier League
Full disclosure I am not a huge soccer guy. What I am a fan of however, is a great underdog story and this is easily the best of the decade. It might be of all time except we can never forget Peter LeFleur and Average Joe's Gym. Soccer is the most popular sport in the world and if I were to align with anyone, it should be Leicester City after the feat they pulled off in 2015-2016. Closing at 5000-1 odds to win the league and actually pulling it out is incredible.
9. The Philly Special
The was without a doubt one of the ballsiest calls I've ever seen. With over 30 seconds to go at the end of the 1st half, Doug Pederson elected to go for it on 4th and goal instead of taking the chip shot field goal. Playing against the New England Patriots in Super Bowl LII, I don't blame him for going for it. What I didn't expect is an end-around to the tight end into a reverse pass back to the quarterback. From Corey Clement to Trey Burton and then a perfect dime to Nick Foles, it was this play that defined this team. They consistently played the underdog card and it carried them all the way to winning their first Super Bowl. What's funny is before the Philly Special occurred, the Patriots tried a trick play where Tom Brady went to catch a pass down the sidelines and he dropped it. 
8. The Minneapolis Miracle
In the 2018 divisional round, the New Orleans Saints had just clawed back to take a 24-23 lead. Everything seemed to be over for the Minnesota Vikings. Needing to get into field goal range for a chance, it was a combo of a beautiful pass from Case Keenum, a hell of a catch from Stefon Diggs, and a boneheaded play from Marcus Williams. To walk it off in the playoffs like that is unfathomable. The Vikings won 29-24 and went to the NFC Championship where they lost to the eventual Super Bowl champion Philadelphia Eagles. Not to mention the Joe Buck call on this play was absolutely epic.
7. Kobe Bryant's Final Game
Let me be clear that this was not like Derek Jeter in his farewell game. Kobe Bryant went out guns blazing in Staples Center back in 2016. This moment for me though is so much more than a game. The latter part of his career was riddled with injuries including a nasty Achilles tear that it was wild he was walking away at 37. His entire farewell tour meant so much to the game of basketball. He even won an Oscar for his short video called "Dear Basketball." His final game, however, was completely enigmatic. In my opinion, this was the greatest farewell game of all time. At home playing the Utah Jazz, Kobe played 42 of 48 minutes dropping 60 shooting 22-50 from the field. HE SHOT IT DAMN NEAR EVERY CHANCE HE GOT AND DROPPED 60 IN HIS FINAL GAME AT AGE 37! He dropped 22 in the fourth quarter alone with the last 5 coming with 30 seconds left to put the game away. I think the greatest part about this game is the Golden State Warriors won their record-setting 73rd game and no one cared. MAMBA OUT.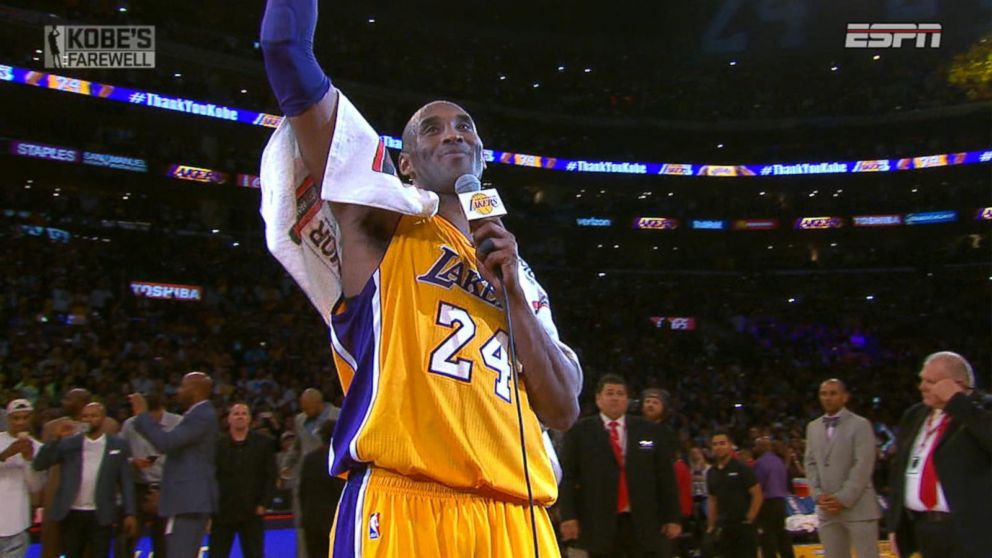 6. 2016 NCAA Basketball Championship: Villanova vs. North Carolina
This game was an absolute bar fight and went wire-to-wire with exchanging baskets and constant lead changes. I feel like the lead of either team never hit double digits. There was no doubt that we were watching the two college hoops programs in 2016. The end of this was special because with 4.7 seconds left, UNC guard Marcus Paige hit an incredible double-clutch contested 3 point shot to tie the game. This was after crawling back from a six-point deficit with under 2:00 to go. Soon after the Paige triple, Villanova inbounded and Ryan Archidiacono was able to find Kris Jenkins who drained the buzzer-beating 3-pointer for the national championship. This game is what epitomizes March Madness. I watched this game with 2 of my great friends Mark and Mike who are UNC die-hards. I swear to god their reactions to the loss was priceless. Mark stormed out before the ball even hit the hardwood after the shot. Mike slowly stood up and slow-clapped stating "if that's how I'm going to lose it I can live with it." I was crying from laughter and simply shocked because I couldn't believe what we just saw.