The votes are in! Longtime New York Yankee Derek Jeter and Larry Walker are now the newest members of the Baseball Hall of Fame after votes were finalized and counted on Tuesday.
Jeter, who was the face of MLB for a longtime, received a 99.7 voting percentage, meaning he was one vote away from becoming a unanimous decision. Walker received 304 votes, which was six above the 75% needed to enter the Hall of Fame.
Now, first of all, congratulations to both of these players. They are both deserving and have earned a spot among the greatest baseball players of all-time.
Jeter was all-time. He'll go down as one of the greatest of all-time. He was a 14x All Star, 5x Gold Glove winner, 5x Silver Slugger winner and a 5x World Series champ. Oh yea, he also won a World Series MVP, an All Star MVP and he was a Rookie of the Year winner.
He had a career .310 batting average and he was with the Yankees for his entire 20-year career.
There's a reason that he was the face of baseball, so who in their right mind would leave this man off their ballot? I understand the old school notion that there shouldn't be any unanimous selections.
But, in my eyes, Ken Griffey should've been one, Mo deserved it last season and if anyone deserves it, it's Derek Jeter (this coming from a Red Sox fan remember). This sparked outrage on Twitter yesterday.
I mean, even O.J. himself was angry.
Anyway, what's happened is gone and done with and Derek Jeter is a Hall of Famer.
Onto Larry Walker. First of all, this was Walker's last year on the ballot and he finally got in. He deserved this and everyone knows it. But first of all LOOK AT THIS SHIRT!!!
This man just got nominated into the Baseball Hall of Fame and he's celebrating with a Spongebob shirt on. I LOVE IT. THIS IS LARRY WALKER.
For those of you who are like uhhhhh Larry Who? This man played in the MLB for 17 years. He spent a majority of his career in Colorado, had a .313 career batting average, was a 7x Gold Glove winner, won the batting title three times and was an MVP in 1997. He was simply the man.
Alright. Now let's look at the rest of the ballot and who got left off.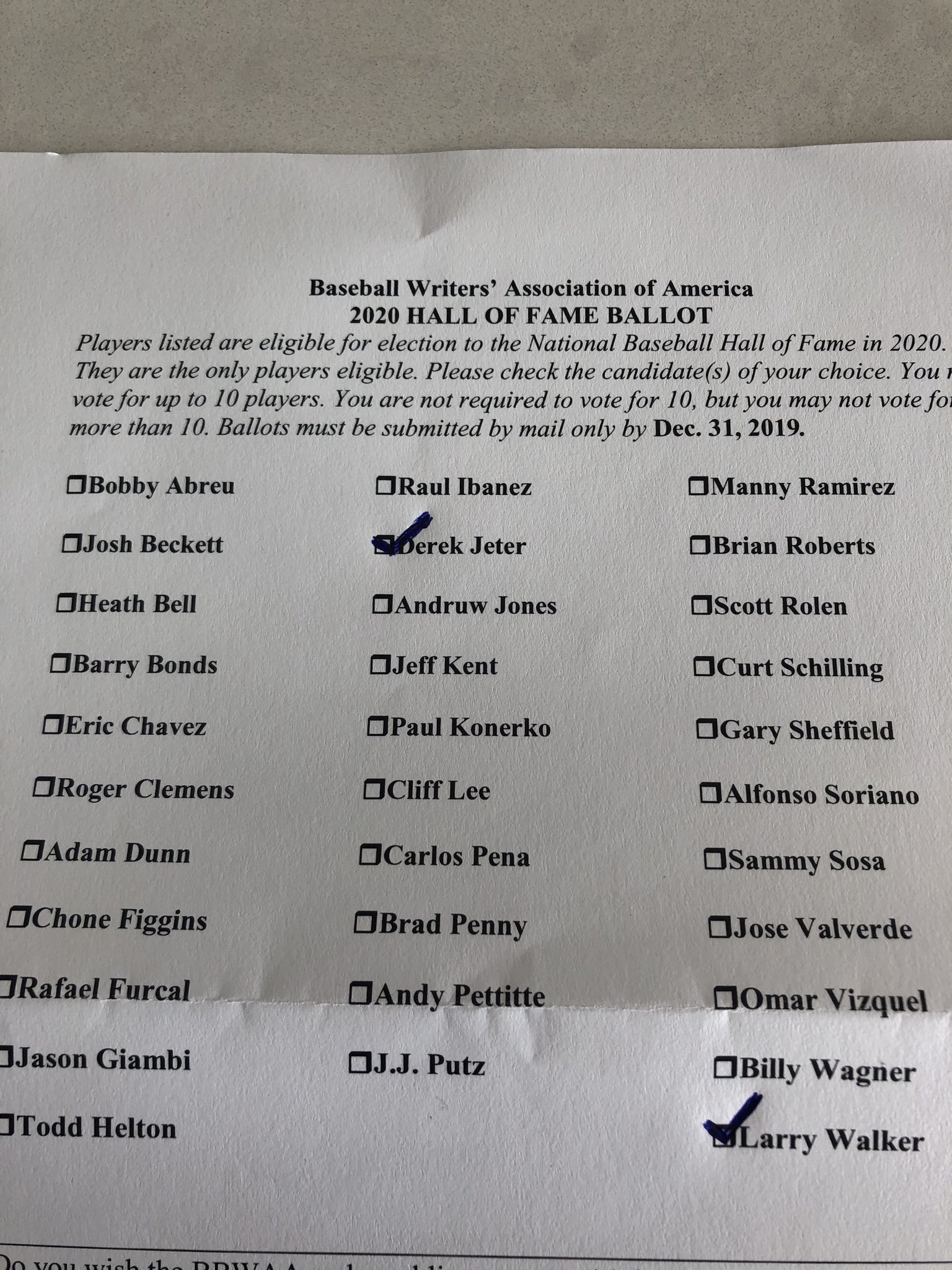 So no Manny? No Curt Schilling? Todd Helton? Cliff Lee should get in sooner or later and so should Omar Vizquel. Now the question still remains if guys like Roger Clemens and Barry Bonds will get in. Only time will tell.