Ahhhh finally. It's a moment I've been waiting for since the final CWL season came to a close. The beginning of the Call of Duty League! Starting tomorrow, with a new eClasico match-up between the Chicago Huntsmen and the Dallas Empire, the new season will finally be underway.
The opening event is taking place in Minneapolis, Minnesota. It will run from January 24th to January 26th at the Minneapolis Armory. The first match starts at 5:30pm EST, between the aforementioned teams. I'm hoping Chicago comes out swinging and takes a nice big punch at Crimsix's ego, but that's just me. It's going to be a wild weekend, no matter what happens really.
Honestly, the fans are really not a big fan of Modern Warfare, mostly with how Infinity Ward is handling it. Which is, to say in a simple way, like shit. Every patch they put out seems to fix an issue, and then cause 2 or 3 others. If you ever go to the CoDCompetitive subreddit, which is the main one for CDL/CWL/Call of Duty esports, they literally have nothing good to say. To be fair, they never do, it's a very negative subreddit. They have a point though, even the pros aren't too keen on this game, and the lack of support from Infinity Ward is concerning. Alas, here we are though. Following weeks of scrims, below is the power rankings for the league, as voted on by the players and coaches: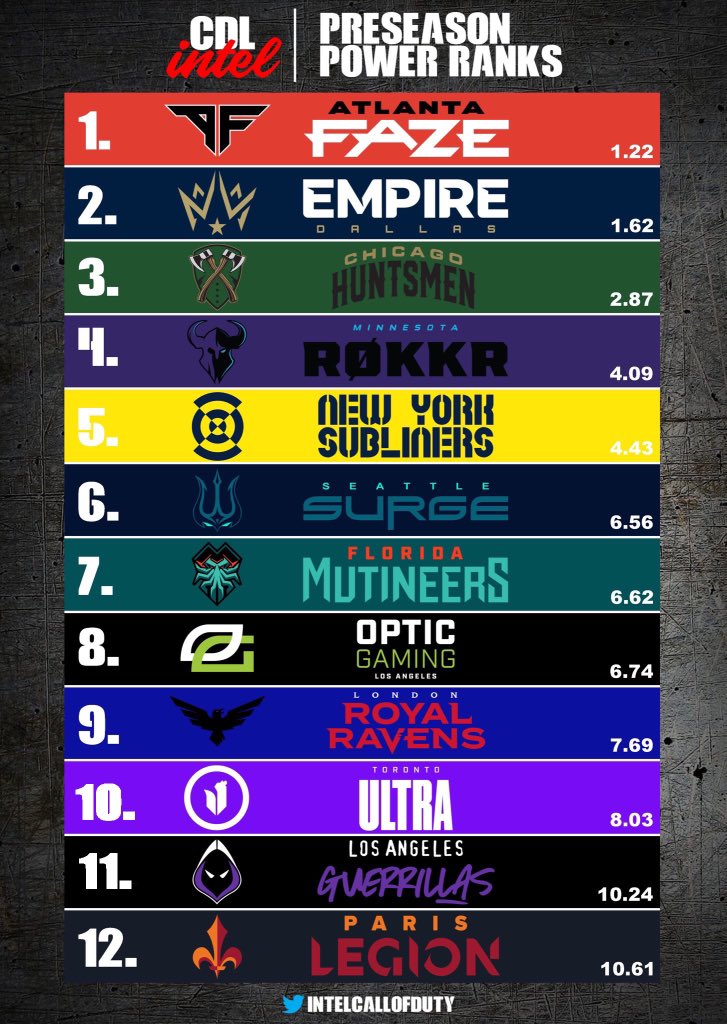 I'm a fan of these power rankings honestly. From watching a fair number of scrims from different players, it sounds about right. Atlanta Faze, Dallas Empire and Chicago Huntsmen are easily ahead of the rest of the teams, without a doubt. Hell, Faze has only dropped a handful of games in their recent scrims. That's insane.
This should all be taken with a grain of salt though, as online play definitely differs from LAN. So this first event will be a telltale sign of what the true rankings should be. You'll always have that dark horse come out of the event though, my pick is Optic Gaming LA for this event, they have a VERY talented roster, but perhaps online just isn't working out for them.
That being said, I want nothing more than for Chicago to come out and just BUST the Empire's lip, and finally make Crimsix eat his words. Dallas has been talking smack since they announced their roster, and I want nothing more than for them to get decimated. I think it'll be a close match, but for Chicago to come out and take the match away from them would be HUGE for morale.
I'm excited to finally see how the game will run on LAN, and how the teams will adapt to it. It should be a good event, and this weekend is going to be big for esports fans. It's a big moment for the CDL, and if they nail it, it will be a huge boost for the league. It's kind of up in the air right now as to how it will pan out, but I'm hoping it's good. Personally, I think it's set up to fail, with how huge the buy in was, and the previous viewership of the CWL not being overly large. Perhaps they will benefit as the OWL did, with the city-based franchising and hype of a franchise league bringing in troves of viewers. That's the ideal scenario, and what I hope will happen, because the talent casting, the talent playing, all of it are people and players I've followed for years, and I'd love to continue following them.
Tune in tomorrow at 5:30PM EST to watch it all take off! I'll be rolling into my house and plopping down on the couch all weekend for this!