Just in case anyone has missed the biggest headline in the NHL the past week, Toronto has fired their "legendary" NHL head coach, Mike Babcock. For more on that, peep Vo's article from earlier this week regarding the situation.
In a recent announcement by the Leafs, they have hired Toronto Marlies head coach Sheldon Keefe. Now the Maple Leafs have been fairly stacked recently, and honestly, a lot of people have expected them to make deep runs and even win the Cup these last couple of years.
Have they? No. Who is to blame though?
Some would say Babcock, some would say the players, but it's kinda a double edged sword. A coach can be the greatest coach in the world, but if he's an unlikable guy, which rumor has it Babcock was, it's not going to matter because you're players aren't going to want to play for you.
Take this into consideration, Auston Matthews is arguably the best player on the Leafs roster, so you know it's a bad sign when the head coach, who at the time was Babcock, has to fly out to the home of Matthews for the last two offseason to figure out some misunderstandings. Don't get me wrong, it's clear Babcock is a good coach of the GAME, but is he a good coach overall? Incidents would point to no, but that's all speculation and opinionated. Fast forward to now though, and enter Sheldon Keefe.
39 years old, fifth season coaching the Marlies, led them to a Calder Cup championship in 2018. Solid accolades, big plus to the AHL championship. Let's point out another fact; he has coached all of the following players during their time playing for the Marlies:
William Nylander
Zach Hyman
Andreas Johnsson
Kasperi Kapanen
Frederik Gauthier
Dmytro Timashov
Trevor Moore
Pierre Engvall
Martin Marincin
Justin Holl
Kasimir Kaskisuo
That's a long list of players he's already coached, and if the following quote is anything to consider, it's a VERY GOOD sign.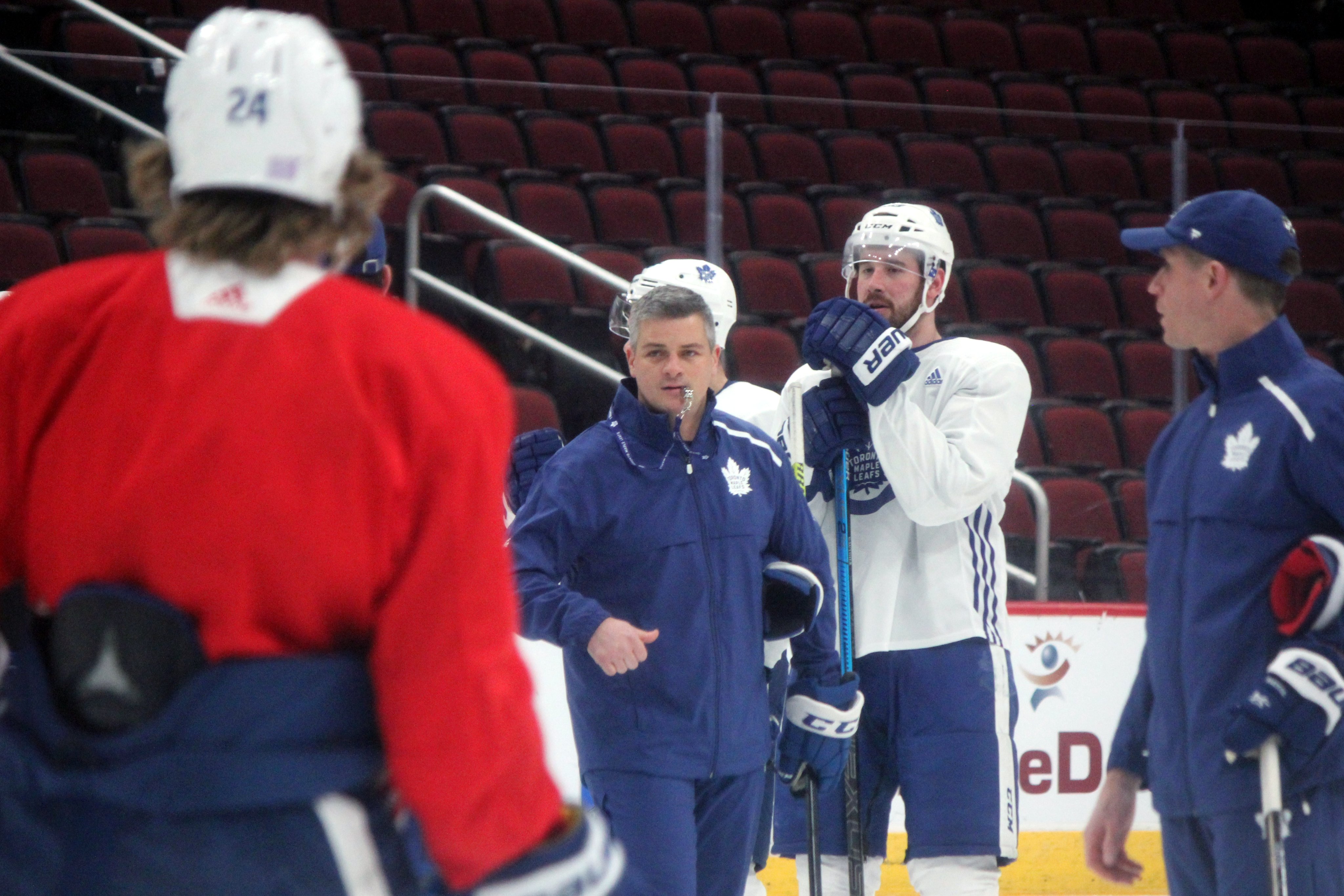 According to Jeremy Bracco, "You'd go through a wall for a guy like that. He's got his players' backs and he's a lot of fun to be around at the rink. A head coach has to be serious at times, but he likes to keep it light as well. He's an honest guy, he's a players' coach and I'm sure the guys up there will love him."
Bracco currently is playing for the Marlies, so hearing that from someone who has been playing for Keefe up until his promotion, that's a dang good thing to hear. From what I've gathered, Babcock wasn't much of a players' coach, which is fine in it's own right, if it works. It wasn't working for Toronto, and the young core group of guys they have may very well benefit from having a players' coach who IS lighter around the players, someone younger and more in touch with them.
Could this be what they need to finally win a cup? We'll see honestly. There is a shockingly weird trend of teams winning cups when their head coach is fired in the middle of the season (I mean look at the Pens for example, they did it twice). Personally, I would love to see them win a cup this year.
Don't get me wrong, I'm all for the Penguins winning the cup every single year, but if there is another team I'd be content with it would be the Maple Leafs. It's been a long time coming for them, and their team is generally a good group of guys. Matthews is a helluva player, and seeing him hoist the cup would be a great sight to see.
This could be the twist they need to pull it off, a coach the players will want to play for, someone they want to win a cup for. From what the Marlies players have been saying, not just Bracco but also Timothy Liljegren, Adam Brooks and Michael Hutchinson on record at least, it sounds like wanting to play for Keefe isn't a hard thing at all. Both Brooks and Bracco saw a significant boost in their points under Keefe, which is a good sign.
Based on that notion, expect to see some boost in performance and numbers from players like Matthews, Marner, Nylander, Rielly and Kapanen. I don't know about you all, but I'm excited to see what happens with the Leafs now.