BIG news in the eSports-sphere in Pittsburgh. Especially for me. Recently, the Pittsburgh Knights, the local eSports team, announced a huge partnership with Pittsburgh Penguins superstar, Evgeni Malkin.
This is HUGE for the scene, and just adds on to the Knights repertoire of partners, including the Pittsburgh Steelers and Pittsburgh-native Wiz Khalifa.
The Knights are the first professional eSports team based in Pittsburgh, and have made a name for themselves in numerous games already. They were founded in 2017 and have since grown to be a large organization under the leadership of founder James O'Connor. Having just recently picked up a championship Rocket League team, they've made impacts in Playerunknown's Battlegrounds, Apex Legends, Madden, Smite, Paladins, Super Smash Bros. and Gwent.
One of those championship caliber teams I'd like to touch on in the newly acquired Rocket League team. The team, consisting of Jirair "Gyro" Papazian, Slate "Retals" Thomas and Nick "mist" Costello, were recently crowned champions under the name "Peeps" at Dreamhack Montreal this past September. They made it all the way through the losers bracket to take down one of the best teams in Rocket League, G2 Esports. Having been promoted from the Rival Series to compete in the 8th season of the Rocket League Championship Series, they look to make a name for themselves and to solidify their legacy in Rocket League. With each player only being 16 years old, they are the youngest team in the league, but I believe they'll make one of the biggest splashes this season. With 2 weeks of this current season underway, the Knights are 1-1, having dropped a best of 5 to Ghost Gaming, 3-1, but quickly bouncing back and taking out Rogue in a decisive 3-0 fashion.
The Knights face off this weekend against one of the most recognizable organizations in eSports, Cloud9. Good luck to the boys in black and gold this weekend!
Before we wrap it up here, I just want to touch base on some of the other awesome things the Knights have done in their hometown. Having recently partnered with the Steelers, they've even opened a gaming section at Heinz Field. Dubbed the "Knights Gaming Zone", fans are able to come down before the Steelers game and sit, relax and play some video games to pass the time.
The Knights are making moves in the Burgh, and I for one am hoping they keep this trend up. I'd LOVE to see some big name eSports events start to come to the Steel City, and I'd love even more to see some collaboration between Thoughts from the Bench and the Pittsburgh Knights soon! In the meantime, you can follow the Knights and their conquests on Twitter below, and catch them live during the games going on this week!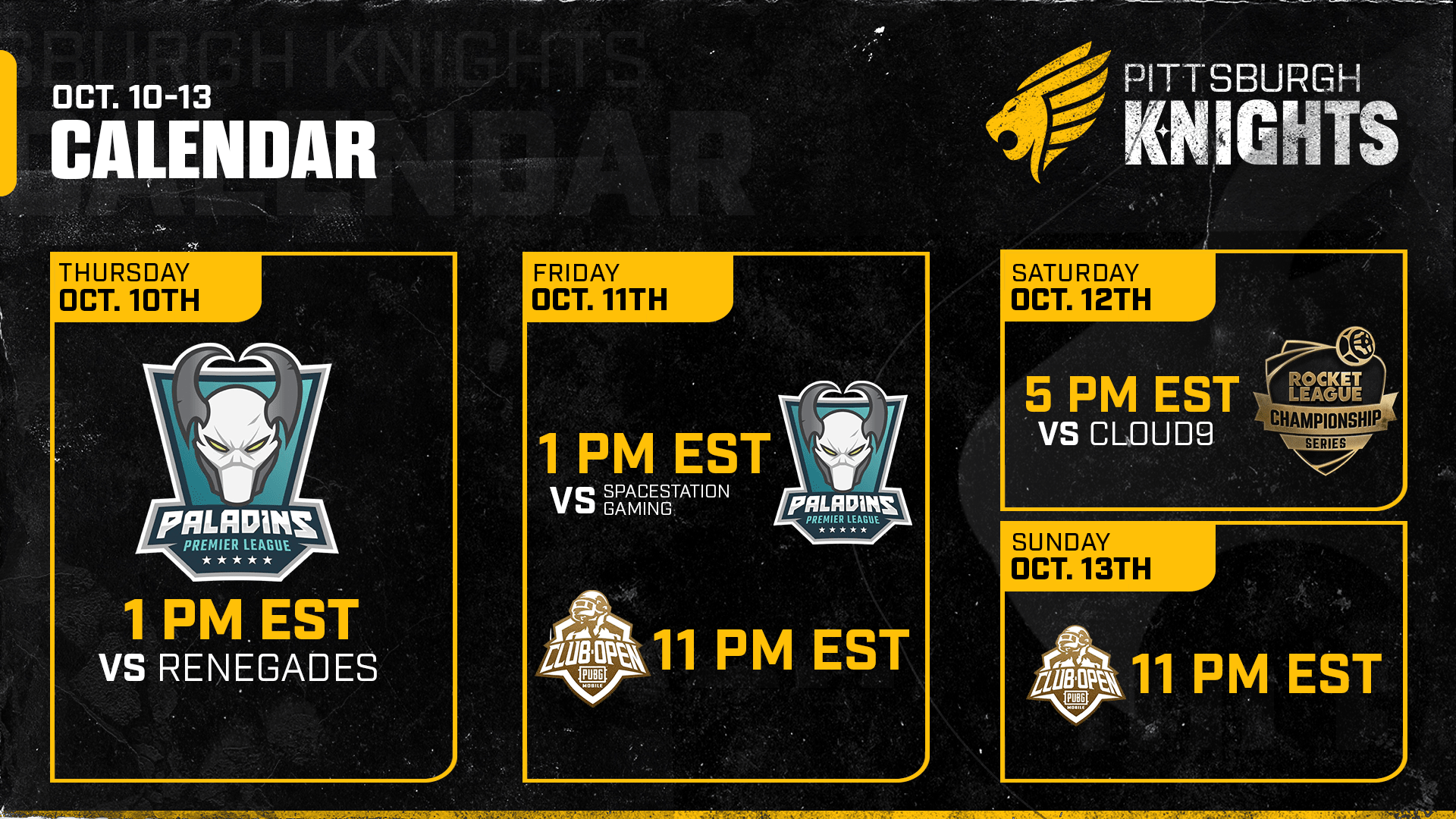 #KnightsNation