WHAT… IS… HAPPENING?!
Madness is ensuing in the NFL. Free agency has been an apocalyptic whirlwind of chaos. Dozens of surprise signings, opt-outs, trades and releases. My mental capacity can't handle covering every single move, so I'm gonna go over the ironically comical mind blowing moves that have occurred this week…
AB to the Raiders:
The Antonio Brown saga has finally ended! Let's all rejoice! The Steelers traded Tony Toe-Tap for about 24 cents. Pittsburgh picked up a 3rd and 5th round pick from Oakland for the star receiver. After AB made a big stink like a full diapered toddler about leaving the Steelers because of girlish feuds, he's landing himself on a shit team in a tough division. As DJ Khaled would say to AB, "congratulations, you played yourself".
Browns Going Fucking Nuts: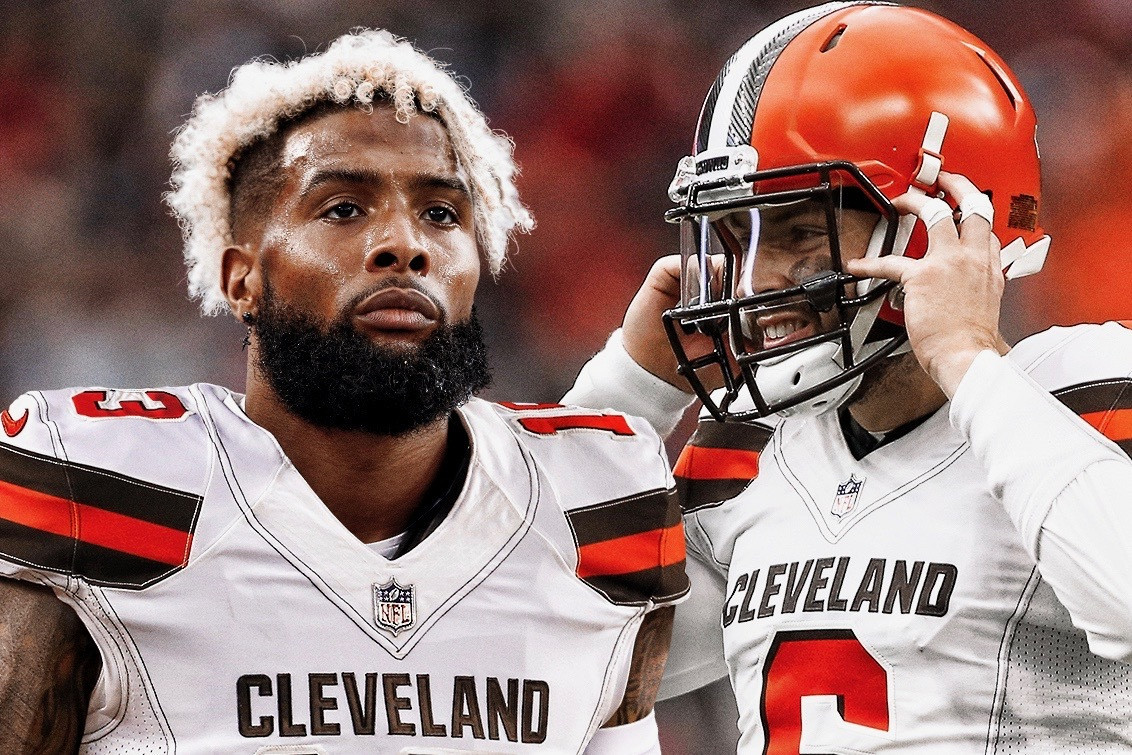 Cleveland has done the fastest 180 with their franchise that I have ever seen. Obviously we need to see these guys play together but Mary Mother of God the Browns are demolishing free-agency. First things first, they already have Baker Mayfield, Jarvis Landry, Myles Garret and recently picked up woman-kicker, Kareem Hunt. THEN they go out and land Odell Beckham Jr. for two picks and Jabrill Peppers that they sent to the Giants who have clearly given up on life and are now placed on a suicide watch list. They have reunited one of the deadliest receiving duos in college history by reconnecting Beckham and Landry. On D, they add former Giants stud Olivier Vernon and former Viking beast Sheldon Richardson to their front four. CLEVELAND IS WORKING THE SYSTEM AND I HAVE NO EXPLANATION.
Lions Racking Up Free-Agents:
The Lions have signed former Steeler tight-end Jesse James on a four year deal. Considering they had no replacement for Eric Ebron last year, a guy who was surpassed in his own position by Vance McDonald is clearly the answer. They also acquired Trey Flowers, DE from the New England Patriots. The Lions defense was a straight up dumpster fire, so here we are possibly seeing a turnaround? They also nabbed notable white receiver and Super Bowl champ Danny Amendola. And to top it all off they break the bank signing nickel corner Justin Coleman from the Seahawks. The Lions are SICK of sucking ass.
Cardinals Sign Terrell Suggs:
Why.
Bell, Mosley, Barr, Crowder Sign With Jets:
Le'veon Bell signed with the Jets the other night. He signed a 4 year $52 mil contract with $35 mil guaranteed… When the Steelers offered the free-lance rapper a football contract of 5 years for $70 mil making him the highest paid RB but he wanted more. Well he's only getting slightly more guaranteed money to go to a team that won't even make the playoffs next year. So what was all the fuss really about??? CJ Mosely formerly of the Ravens, signed a deal with the Jets, finally giving Jamal Adams some defensive help like he has been begging for, also adding former Vikings linebacker Anthony Barr to the mix. Jamison Crowder the former Redskins receiver also signed with the Jets. This is finally someone somewhat respectable for Darnold to throw to. Adam Gase with his bug eyes and mediocre coaching ability leading this new roster, just might bring the bum-ass Jets above .500.
Ravens Make Two HUGE Moves:
The Ravens let go of Eric Weddle this year, and it was clearly to make room for an upgrade in Earl Thomas, who was said to be a "guaranteed" signing by his hometown Cowboys, but then Baltimore dirty dicked em and swept him right from under their boots. This is huge for the Ravens defense if he stays healthy. Then on top of that, they go out and land the pain train that is Mark Ingram formerly of the Saints. Ingram will finally get to be his own star being separated from Alvin Kamara and now paired with Lamar Jackson, sheesh.
49ers "Kick" The Bears In The Balls
The biggest signing the 49ers have acquired was Dee Ford from the Chiefs, adding some much needed defensive help. But MAN did they do the Bears dirty. Current 49ers kicker Robbie Gould played a majority of his career with the Chicago Bears. Now that Cody Parkey couldn't even stub his toe if he tried, the Bears needed a kicker, and were looking to bring back former city favorite Gould. Then the 49ers franchise tagged him… their KICKER. NOBODY FRANCHISE TAGS A KICKER. But alas, the Bears will deal with my boy, Pitt alum, Chris Blewitt for now.
Jags Get a QB:
DUVAAAAAAAALLL STAND UP! The Jaguars signed big dick Nick Foles this week to a four year deal to most likely replace Blake "butthole" Bortles. Blake is probably a good guy, but Foles is a savior, Super Bowl Champ, and Super Bowl MVP. With their young receivers, a healthy Leonard Fournette and a strong defense once they work some kinks out, the Jags could be legit.
Honey Badger Don't Care About Money!:
The Chiefs have notably cut quite a few people like former defensive captain, Justin Houston (yet to be signed) and Steven Nelson who was just picked up by the Steelers. Someone they did sign though, is a monster pairing with Eric Berry, Tyran Mathieu. The Honey Badger being added to that already ass blasting talented team is unreal. They now have some defensive power which for anyone playing the Chiefs is scarier than awaiting a paternity test on "Maury".
There were plenty of other signings and trades as well, but again for the sake of my mental capacity we'll just stop after all I've already unloaded like a post T-Bell dump. I expect free agency to continue to blossom, but I just had to cover what's happened already, because there is no way I'd be able to tally it all up once it ended. The NFL is turning upside down, so start rotating your TV's…