Two of the biggest free agents in the history of Major League Baseball hit the market this past offseason.
For years, organizations have been waiting for Manny Machado and Bryce Harper to have the opportunity to choose where they wanted to play for the next chapter of their careers and they were all hoping their organization would be the one that Harper or Machado would choose.
As everyone predicted, their talent and their age would bring BIG paychecks for the two 26-year-old superstars as they both set records of their own this offseason. Machado earning the highest per-year salary and Harper earning the largest total contract.
On occasion, big contracts like the ones that Harper and Machado signed in recent weeks haven't panned out. Those players produce for two or three years maybe and then somewhat fall off. I mean, in Harper's case, do you really expect him to be worth $22 million between his 36 and 38-year-old season?
Only time will tell, but in the past there have been mixed results, so I took a look at the largest contracts in MLB history by position. Some have players listed in different positions, like Stanton, who is pretty much a designated hitter but is listed as a left fielder and Machado is listed as a third basemen, but will probably play some shortstop.
So here we go.
Right Field: Bryce Harper 13 years, $330 Million
Since he was a teenager, Harper has been dubbed as the chosen one. He displayed godly like power in high school and immediately impacted the Nationals when he stepped onto the scene as a 19-year-old in 2012 when he won Rookie of the Year with a .270 batting average, 59 RBI's and 22 home runs. His best year came in 2015 when he won the MVP award and led the league in runs, home runs, on-base percentage, slugging percentage, and OPS. At one point in his career, teams were intentionally walking him at a Barry Bonds type rate. It was crazy, he was living up to the hype. But to put everything in perspective, he's only had two seasons hitting over .300 and has only topped 35+ home runs in one season. In my opinion to earn the largest contract in MLB history, the numbers have to be there and for Harper they have been, somewhat. The question that remains is will Harper have the ability to sustain them or even improve them in Philadelphia, where he has a .268 career batting average and has hit the second-most home runs behind Nationals Park.
The next 13 years should be interesting.
Center Field: Matt Kemp 8 years, $160 Million
Kemp is one of those contracts where it simply just didn't work out. In 2012, he signed an 8 year, $160 million-dollar contract with the Los Angeles Dodgers and before that moment, he was one of the best players, flat-out, in the game. In his first six seasons, he had one two golden gloves, two silver sluggers, and was coming off a season in 2011 where he led the league in runs, home runs and RBI's. He signed that big contract and then BOOM, fell off a cliff. 2012 was the last season he hit over .300 and he has only been named an All-Star one other time, in 2018. He is one case that didn't work out, but he's not the only one.
Left Field: Giancarlo Stanton 13 years, $325 Million
Stanton was one of the most prolific power hitters in the game when he signed his big contract with the Miami Marlins. He was a two-time All-Star, a one-time Silver Slugger winner, and had just finished as the runner-up in the MVP race. He deserved the contract he had gotten. But, Derek Jeter wanted a restart when he took over the organization so they shipped him to New York. In his first year in pinstripes, he belted 38 home runs, drove in 100 RBI's, set a career high in strikeouts and also put him the second-highest hit total of his career. Stanton is a guy who has lived up to his contract so far and I believe that will more than likely remain the case.
Third Base: Manny Machado 10 years, $300 Million
He came up as a shortstop, moved to third base for the Orioles, broke into the big leagues as a 19-year-old and quickly became one of the best third basemen in the game. He won two gold gloves before turning 23 and is a 4-time All-Star. Then, coming into this offseason he was one of the most coveted prospects in MLB and earned the largest annual value contract in the history of the league. He's only 26, meaning come of his best years are ahead of him. He has the range to stay at shortstop, but will more than likely transition back to third base in the upcoming year. The big question with Machado is will his numbers live up to the contract. He's never hit over .300 in a season and surpassed the 100 RBI threshold for the first time this past season. In my opinion, his best years are ahead of him and he'll live up to that contract.
Shortstop: Alex Rodriguez 10 years, $275 Million
Okay, Alex Rodriguez is one of the most interesting cases in the history of Major League Baseball because of the fact that he owns two of the 5 largest contracts in the history of the sport. His first came during his time with the Texas Rangers, when they paid him the $252 million, which at the time obliterated pretty much every contract in the history of professional sports. But A-Rod didn't technically complete that first mega-contract as it allowed him to opt-out after the 2007 season. At this time, he had been traded from the Rangers to the Yankees in 2004 and the Bronx Bombers doled out a 10-year, $275 million contract.
It's no secret what A-Rod was able to do throughout his career. He was arguably one of the greatest, if not the greatest, player in the league. But his career was hurt by steroid allegations late in his career, which has since hampered his legacy but he will still probably go down as one of the best players of his generation.
Second Base: Robinson Cano 10 years, $240 Million
For a second basemen, Robinson Cano has one of the smoothest transitions, one of the biggest bats, and a smile that can light up a room. He was great for the Yankees early in his career playing alongside Jeter and earning five-straight All-Star nods from 2010 to 2014. Then, he received his 10-year, $240 million contract. Since that year, he's only topped 100 RBI's once and has only hit over 25 home runs once. He was traded to the New York Mets this offseason and is coming off an 80-game suspension after testing positive for a banned substance. Entering his age 36 season, Cano is probably passed his prime but don't be surprised if this guy has a comeback year in a familiar situation in the Big Apple.
First Base: Miguel Cabrera 8 years, $248 Million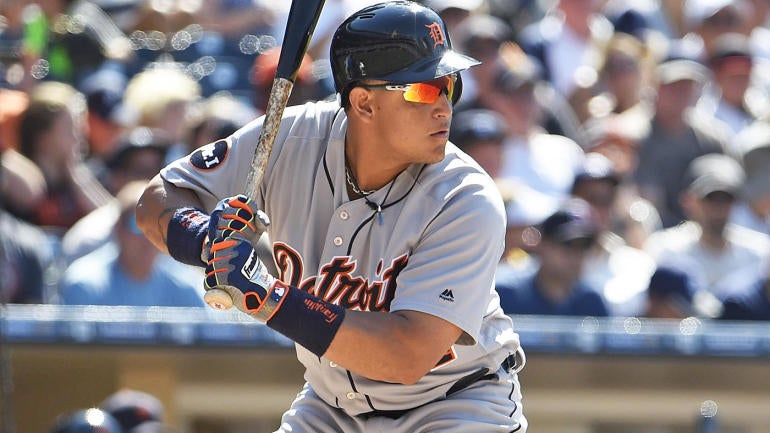 Can we please talk about Miggy here for a second? I remember seeing this contract and my eyeballs almost came out of their sockets because I thought this contract was massive. Turns out in today's age, it's not. He earned every cent of it too. A triple crown winner, has led the league in doubles, home runs, and RBI's twice and has also led the league in batting average and slugging percentage four times. Miggy may not be the player he once was, but he may go down as one of the best hitters of ALL-TIME. He deserved every cent of his contract.
Catcher: Joe Mauer 8 years, $184 Million
It's hard to put a price on the value of a catcher based on statistics. So much of their game relies on how they manage a pitching staff, framing pitches, throwing out runners, blocking balls, calling a game, and then after all that they have to go up and hit as well. They are somewhat like a running back in the NFL, they have a short shelf life, which is probably why this number is so low compared to the rest of the list. But Joe Mauer may be one of the best hitting catchers in the history of the game. I have no doubt about that and I'd debate anyone who said otherwise, he deserved every cent and then some and we'll just leave it at that.
Designated Hitter: J.D. Martinez 5 years, $110 Million (Signed in 2018)
My man J.D. Martinez. He's one year deep into this contract and he's already earned it because of how he helped the Red Sox win a World Series. He was basically a DH and a hitting coach at the same time. He contributed heavily to Mookie winning the MVP and on top of it he led the league in RBI's and was 5 behind Khris Davis in the home run race. He cashed in and did everything he needed to do, he lived up to the contract and this is all this article is about.
Starting Pitcher: David Price 7 years, $217 Million
For me, in order to earn this contract all David Price had to do was win a World Series in Boston, win a few playoff games and be himself during the regular season. Until this past season, he hadn't. But like he said in the playoffs last year, he has the trump card now, he's performed in the post season, he's delivered spectacular regular season performances and he's won a World Series. He's the man in Boston now, other than Chris Sale of course, who might top this list at some point in the near future.
Relief Pitcher: Aroldis Chapman 5 years, $86 Million
He's a flame thrower, he lights up the radar gun and he's been lights out over the past few years. I don't think he should be the highest paid relief pitcher of all-time, but he's sure up there.