Did you miss me? It's a question that is as simple as yes or no. It's been awhile since I put out content or wrote a blog. There were also many ample opportunities BUT I waited for the perfect moment. I cannot think of a better time to return to creating content than the first day of football season.
I missed you…and I'm talking about football mainly. I genuinely don't know who reads what I write. If you're reading this though, I do appreciate you. I hope you appreciate my #DrePredictions here for the upcoming NFL season filled with both excitement and drama. From the Deshaun Watson legal issues, and the Aaron Rodgers drama which has a resolution (enjoy the last ride Packer fans), to now the TJ Watt contract negotiations. If you're reading this Kevin Colbert and Steelers front office, just pay the man. He's more than deserving and you're a simple google search away from finding out your cap for the next season (spoiler alert: they have what appears to be $84 million worth of cap space for 2022).
AFC East
Bills
Dolphins
Patriots
Jets
AFC North
Ravens
Steelers
Browns
Bengals
AFC South
Titans
Colts
Jaguars
Texans
AFC West
Chiefs
Chargers
Broncos
Raiders
NFC East
Football Team
Cowboys
Eagles
Giants
NFC North
Vikings
Packers
Bears
Lions
NFC South
Buccaneers
Panthers
Saints
Falcons
NFC West
Rams
Seahawks
49ers
Cardinals
AFC Playoffs: Wild Card
Chiefs (2) over Chargers (7)
Ravens (3) over Browns (6)
Steelers (5) over Titans (4)
NFC Playoffs: Wild Card
Buccaneers (2) over Panthers (7)
Rams (3) over Packers (6)
Seahawks (5) over Football Team (4)
AFC Playoffs: Divisional Round
Bills (1) over Steelers (5)
Chiefs (2) over Ravens (3)
NFC Playoffs: Divisional Round
Seahawks (5) over Vikings (1)
Rams (3) over Buccaneers (2)
AFC Championship
Bills (1) over Chiefs (2)
NFC Championship
Rams (3) over Seahawks (5)
Super Bowl
Rams (3) over Bills (1)

Super Bowl MVP: Matthew Stafford
NFL Season Awards
MVP: Josh Allen
OPOY: Dalvin Cook
DPOY: Myles Garrett
OROY: Najee Harris
DROY: Jaycee Horn
Comeback POY: Saquan Barkley
NFL Coach of the Year: Mike Zimmer
Bold Predictions
This really isn't that bold when you think about it, but there will be records broken. Every single one is in jeopardy because of an added game. Peyton Manning's touchdown record, Eric Dickerson's rushing record, and etc. The records I believe will be broken though are the single season receiving yardage record set by Calvin Johnson in 2012 with 1,964 yards, the single season receptions record set by Michael Thomas in 2019 with 149 catches, and the touchdown receptions record held by Randy Moss in 2007 with 23. The NFL is an offensive league as we all know. These are the records most affected by the additional game. If an 18th game is added, these will again be in jeopardy. I just hope the NFL is smart and somehow adds a second bye week for the teams. It will be necessary. If I were to name players who have the best shot at breaking these 2 records, I believe that it will be Davante Adams breaking the touchdowns is most possible, Tyreek Hill breaking the yardage record, and Stefon Diggs breaking the receptions record.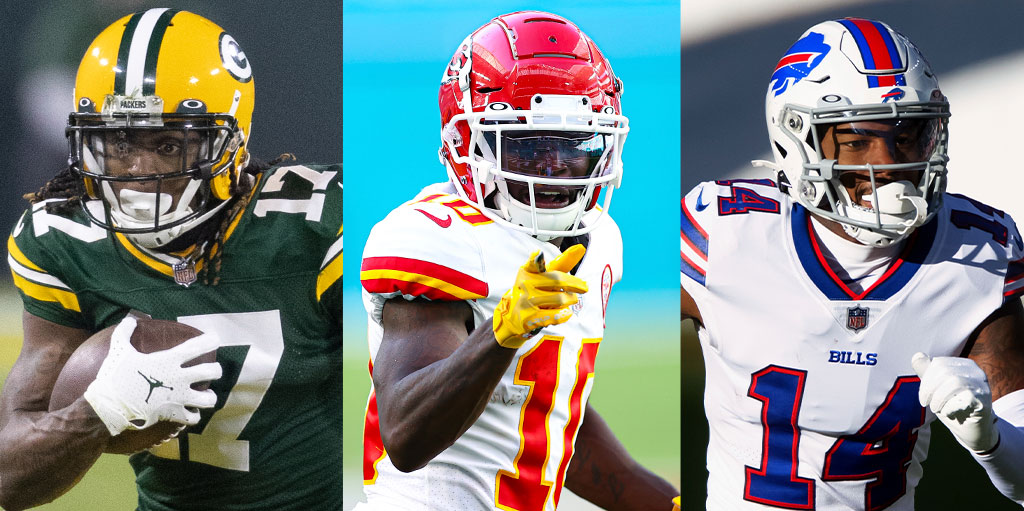 The rookie QB class will begin it's tear on the league and everyone will be saying it's the best class of all time. You know how the media overblows literally everything that happens in the NFL. With a class headlined by 5 QBs in the first round, they will steal headlines by how quick they adjust. It is all about the waiting game for guys like Justin Fields and Trey Lance. However, with Trevor Lawrence, Zach Wilson, and Mac Jones, these guys get to showcase their stuff right away. I do expect rookie growing pains. That happens because it's an adjustment from college football to the NFL. It's sort of contradictory that I believe these guys will achieve such heights considering none of them wins rookie of the year for me (I bet on Najee to win it and believe he will also light the league on fire). The prediction here though is the leap the 2020 QB Class takes from year 1 to year 2. Sorry to take you all through a long winding road of praising of the rookies. I believe in them and their time will come. Joe Burrow, Tua Tagovailoa, Justin Herbert, and Jalen Hurts I believe will SHINE in year 2. We already know about Herbert seeing as he is the reigning 2020 OROY.With Tua and Hurts, they do have a lot of growth to show. They have had a full season to prepare and did not have any threat to their playing time. With Burrow, I think just needs to stay upright as hard as that is with his line. His weaponry is one of the most dynamic in the NFL with Tyler Boyd, Tee Higgins, rookie Jamarr Chase, and Joe Mixon.
The worst team in the NFL will be the Detroit Lions and not the Houston Texans. The Texans SHOULD be picking 1 overall next year, but no one is talking about how bad the Lions truly are. Jared Goff is not a good QB at all. He somehow regressed since his first full season as the starter with Sean McVay in his ear. Their receiving core is atrocious considering Tyrell Williams is their number 1. All that smoke that Dan Campbell talked in the interview, well it's just smoke. And if you can name me one person on the Lions defense not named Jeff Okudah, I will be impressed. Don't kid yourselves here when comparing the Texans and the Lions. The NFC has way better teams as it shows every year when they consistently have .500 and over teams miss the playoffs. The Texans at least get the Jaguars twice a year. Oh, and let's not forget that the Lions play against the 2 best divisions in football in the NFC West and the AFC North.