Week 1 is finally here and I could not be more hype about it. I need to officially put these out there since the season has started. I'm a day late I know and quite frankly yesterday didn't change any of my outcomes for the future. You'll understand why as you read down the list and see my bold predictions.
AFC East
Bills
Patriots
Dolphins
Jets
AFC North
Steelers
Ravens
Browns
Bengals
AFC South
Titans
Texans
Colts
Jaguars
AFC West
Chiefs
Broncos
Chargers
Raiders
NFC East
Cowboys
Eagles
Giants
Washington
NFC North
Vikings
Packers
Lions
Bears
NFC South
Saints
Buccaneers
Falcons
Panthers
NFC West
Seahawks
49ers
Rams
Cardinals
AFC Playoff Seeds
Chiefs
Bills
Steelers
Titans
Ravens
Texans
Patriots
AFC Wild Card
Patriots over Bills
Steelers over Texans
Ravens over Titans
AFC Divisional Round
Chiefs over Patriots
Steelers over Ravens
AFC Championship
NFC Playoff Seeds
Cowboys
Saints
Vikings
Seahawks
Eagles
49ers
Rams
NFC Wild Card
Saints over Rams
Vikings over 49ers
Seahawks over Eagles
NFC Divisional Round
Cowboys over Seahawks
Saints over Vikings
NFC Championship
Super Bowl LV
Yeah ok so I have the Steelers winning it all. Sue me. This HAS to be the year. They have the best defense in the NFL and a healthy Ben Roethlisberger. Big Ben honestly has to be average in order to win this thing. They finished 8-8 last year with the worst QB play in the NFL. They lost Hargrave on defense but will regain Stephon Tuitt to help offset the loss. They have all the tools on both sides of the ball, so now it just needs to come together. The road isn't easy because the Ravens offense is incredible and the Chiefs still have Mahomes, but that's how high I am on this defense. It's elite and when a team has an elite defense, I'll take that to stop a high flying offense.
NFL Awards
MVP: Dak Prescott
OPOY: Dalvin Cook
DPOY: TJ Watt
OROY: Tua Tagovailoa
DROY: Chase Young
Coach of the Year: Sean McDermott
Bold Predictions
Cowboys have 3 1,000 yard WRs in Amari Cooper, Michael Gallup, and CeeDee Lamb. This offense is loaded and will easily be the best show on turf in 2020. I also think Zeke gets his 1K rushing yards but this is definitely a big season for Dak. He just saw Mahomes and Watson get paid so he is definitely going to ball out to get that massive payday.
The Buccaneers will finish 8-8 and miss playoffs. Everyone is assuming this team is instantly incredible because Tom Brady got weapons now. Well he doesn't have the elite Pats defense or the elite coaching of Bill Belichick anymore. Him and Jameis had the same QBR last year where the latter threw 33 ints. That's alarming to me. Not to mention they're the trendy pick by everyone just like the 2019 Cleveland Browns. Everyone will wake up to play this team and the Saints already smacked them.
NFC West will be the best division in football and it won't even be close. This may be the least bold of my predictions but it's worth noting. This division is absolutely loaded and I believe any four of them could have a shot at winning the division. After watching the Cards yesterday, they could be in it until the end. I have the Cards as the 4th team out there and they could be 4th at 7-9.
The league leader in passing will be Matt Ryan, the rushing champ will be Saquan Barkley, and the receiving yards leader will be Davante Adams. If you see some of my fantasy teams, then that'll justify these picks after being late releasing these predictions week one. Picking Matt Ryan over Dak is bold because I think Dak will have 3 1K receivers, but they will not need to pass every game like the Falcons who will be behind in many games. Saquan had a down year but year 3 will be so massive for this dude. Davante Adams is the only target for Rodgers in Green Bay.
Tua Tagovailoa will be the better year 1 QB over Joe Burrow and Justin Herbert. This really attests to Brian Flores more than the players. Tua is an elite talent and we saw that the second he stepped on the field during the 2018 National Championship game and won. This is evidence as I have him winning rookie of the year. We do not know when he will step onto the field but I'm very excited for that Dolphins game.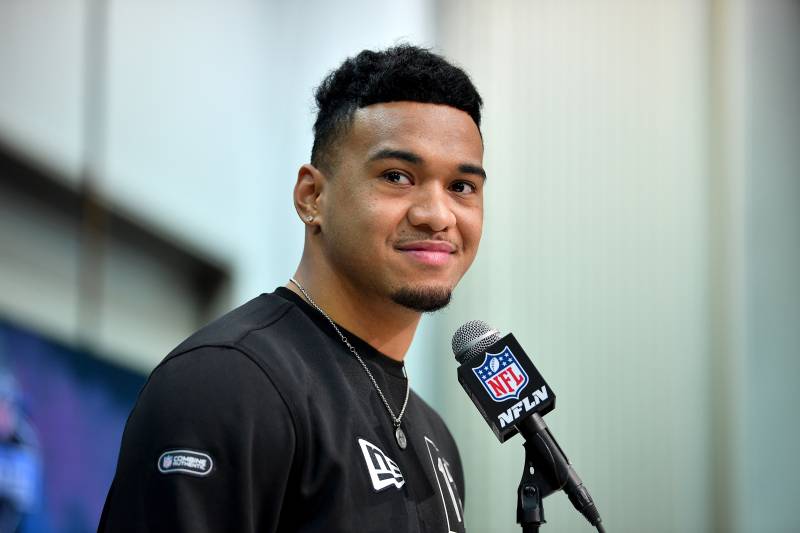 The number 1 pick in the 2021 draft will be the Carolina Panthers and not the popular pick of the Jacksonville Jaguars. The Panthers defense is an atrocity and will lose them a ton of games where the Jags have some talent on that side of the ball. Doug Marrone will be the first coach fired though. I like Teddy Bridgewater but believe he's not going to elevate them to the level that Matt Rhule wants to operate. Plus I truly believe in Gardner Minshew as an NFL starter. Trevor Lawrence will not be going far from his alma mater of Clemson.