If anyone has paid any remote attention to the gaming news recently, they've almost certainly encountered the boycott against Activision Blizzard that's going on right now. They are in the midst of a PR NIGHTMARE because of recent actions they've taken against a Hearthstone pro from Hong Kong.
This past Tuesday, Blizzard had placed a year ban on Chung Ng Wai, a Hearthstone pro based out of Hong Kong. Under the handle "Blitzchung", Wai competed in the pro league for Hearthstone and had participated in an official livestream for the game, during which he expressed support for the pro-democracy protesters in Hong Kong.
As he was being interviewed, Wai stated "Liberate Hong Kong, revolution of our times", prompting Blizzard to issue the ban and forced him to forfeit $10,000 in prize money. Money which he had already won.
Holy sh*t. This has envoked rage among the world, causing fans to boycott Blizzard and everything they do. The same day that the player was banned, a group of Blizzard employees organized a walkout in protest of the ruling. They walked out of the company's main campus to the iconic Orc warrior statue in the center of the campus.
Ironically, the statue has two plaques that state "Think Globally" and "Every Voice Matters" as company values…really Blizzard? Employees covered them up with paper, as it's clear that's not the case anymore.
Below is Blizzard's official ruling regarding the situation: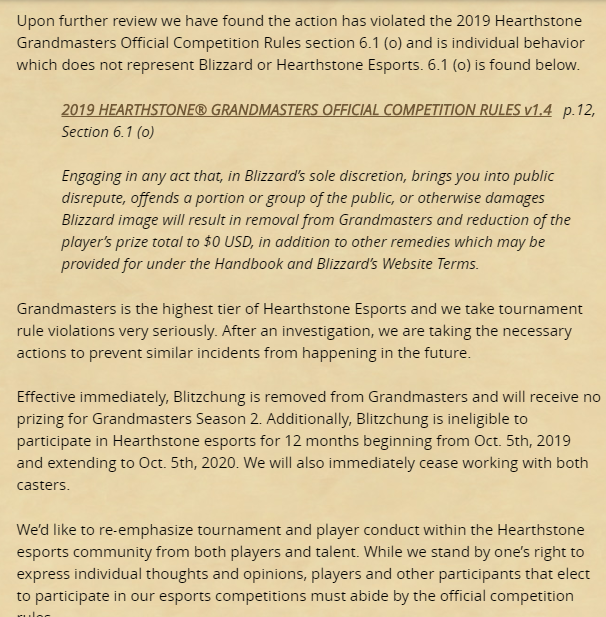 To add fuel to the fire, Blizzard fired the Hearthstone casters working the event, as if they had any control over what Blitzchung said. What the hell? They then proceeded to disable comments on the post discussing the ruling, as if they literally knew what storm they were causing.
One can only assume that this was done because of the amount of money they get from the Chinese region, earning 12 percent of their revenue from the Asia-Pacific region last quarter. In addition to that, Chinese tech giant Tencent owns a 5 percent stake in Blizzard. This has garnered attention all across the world and the country. Two senators even took to twitter to call out Blizzard for this mess.
Both Rubio and Wyden called Blizzard out for humiliating themselves in defense of a "Chinese Communist Party" as Wyden would say and for snuffing free speech globally due to making money from China. To be honest, they are completely right.
This is purely opinion based, but this is PATHETIC from Blizzard. Blizzard used to be a company that was for the players, and then Activision came along and they've been in a downhill spiral since. What they've done to Blitzchung is outrageous, he deserves every right to support what he believes in, as does everyone in the world. You don't have to agree with it, but they all deserve the right to it.
Rubio made a very good point, because of the amount of money companies make from China, it forces them to follow the Chinese rule. In his words, " "People who don't live in #China must either self censor or face dismissal & suspensions. China using access to market as leverage to crush free speech globally. Implications of this will be felt long after everyone in U.S. politics today is gone."
And he's completely right. When companies as large as Activision Blizzard conform to that, it's bad for everyone. What we need is for those type of companies to combat this, like Tim Sweeney, founder, CEO and owner of Epic Games, is doing. Per his own twitter account:
He's firm on that too, he's not going to change. Fun fact too, remember that Chinese giant Tencent? They own 40% of Epic Games's shares. That's 35% more than how much they own in Activision Blizzard. Since Epic Games is a private company and Tim Sweeney is the controlling shareholder, Tencent has NO control over what he does with the company, and he's not letting that change.
Good on Sweeney, who has one of the LARGEST gaming companies in the world, to set the stance on the issue. Good on the world for standing against this as well. The #BoycottBlizzard hashtag was trending and generating a tweet every few seconds, the Blizzard subreddit on Reddit has been bombarded with boycott messages as well. Go ahead and just take a look at https://www.reddit.com/r/Blizzard/ , it's quite an entertaining view of memes calling out Blizzard. As funny as it can be, it's not a laughing matter.
This PR nightmare that Blizzard has brought upon themselves will have repercussions that reverberate through the company for years to come. Image being the developers who work there, who have NO control over the situation, but may very well completely disagree with Blizzard. What can they do? It's their job and livelihood, they can't risk that. It's an awful situation, and I feel for them. Even now, I'm hesitant to support anything Blizzard puts out, whether it be Overwatch, World of Warcraft, or even Call of Duty Modern Warfare when it comes out, as that's owned by the hellish company in Activision. It's an awful situation all around. I WANT to buy them because it will benefit the developers and people who put countless hours into this and have nothing to do with the situation, but I do NOT want to put any more money into the pockets of this assbackwards company (apologize for the language but honestly, what other way is the to describe them?). This is a bad situation all around, it's a lose-lose.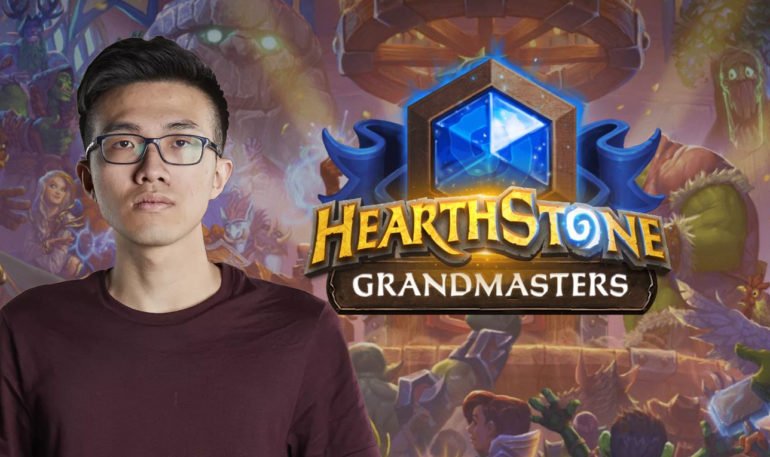 I can say one thing though, I fully support free speech, I've always been a firm believer in you can support whatever you want to support, it's your life who am I to tell you what to do with it. As long as you don't force it on others, why should I be bothered by what someone believes in? This is wrong, and it's pointing out more and more issues with the world anymore. Step up and own yourselves, Blizzard. Apologize the nightmare you've caused, apologize to Blitzchung, and quit being controlled by China.