Hell. YEAH.
Penguins are back baby, and they are looking to come out STRONG against the Sabres, in an effort to kickstart a run to the Cup. The season opener was looking to be bleak earlier in the week, when it was uncertain whether Pens captain and GOAT Sidney Crosby would play, but he's expected to be in the lineup. Newcomer Alex Galchenyuk is more of a game-time decision, but he did return to practice yesterday which is a good sign for him.
The Penguins are coming off a pretty meh preseason, finishing 2-4 in total, tallying a W against the Blue Jackets and the Red Wings, 4-1 and 4-2 respectively. They dropped both games they played against Buffalo, but they were highly contested matches. They lost 5-4 in OT when they lined up against the Sabres at Penn State, and lost their final preseason game in a shootout, 3-2. They dropped a game against Columbus 3-1 and against Detroit 3-2 in OT. All in all, not overly bad, but nothing to call mom about.
Per the Pens Inside Scoop twitter, these were the lines for the morning skate today:
Dangle, snipe and celly:
I'm still not a fan of Hornqvist personally, I don't believe he's a top 6 player by any means. He's a grinder through and through, and if I'm being honest, if he was on a team without Sid, he'd be a bottom 6, third liner in my opinion. Fortunately for us, I guess, he works insanely well with Sid. He's in the right places and Sid can put the puck on net and let Horny just hack at it and do what he does best. He's definitely good at that, and I expect he'll be a real nuisance for Rasmus Dahlin and Colin Miller, the Sabres top defensive pairing. If he can keep them busy, then I don't have any doubts the Sid and Guentzel will connect, per usual.
My player to watch, unbiased of course, is Evgeni Malkin. He had a bit of a rough year last year, only 72 points (21 goals and 51 assists) with an abysmal -25 rating. YIKES. Love him to death, but come on Geno, you're VASTLY better than that. Expect him to come out with a vengeance and light up Carter Hutton. I'm curious to see how well Galchenyuk and Malkin gel after time playing together. I see Galchenyuk as more of a "let Geno do his thing" kinda player, differing from Kessel. Kessel had that firepower, I'm hoping Galchenyuk will be that playmaker to set up Malkin's FILTHY one-t. If you're coming into this season expecting Galchenyuk to put up Kessel numbers, you should probably temper your expectations something fierce. I hope he does, but it's highly doubtful.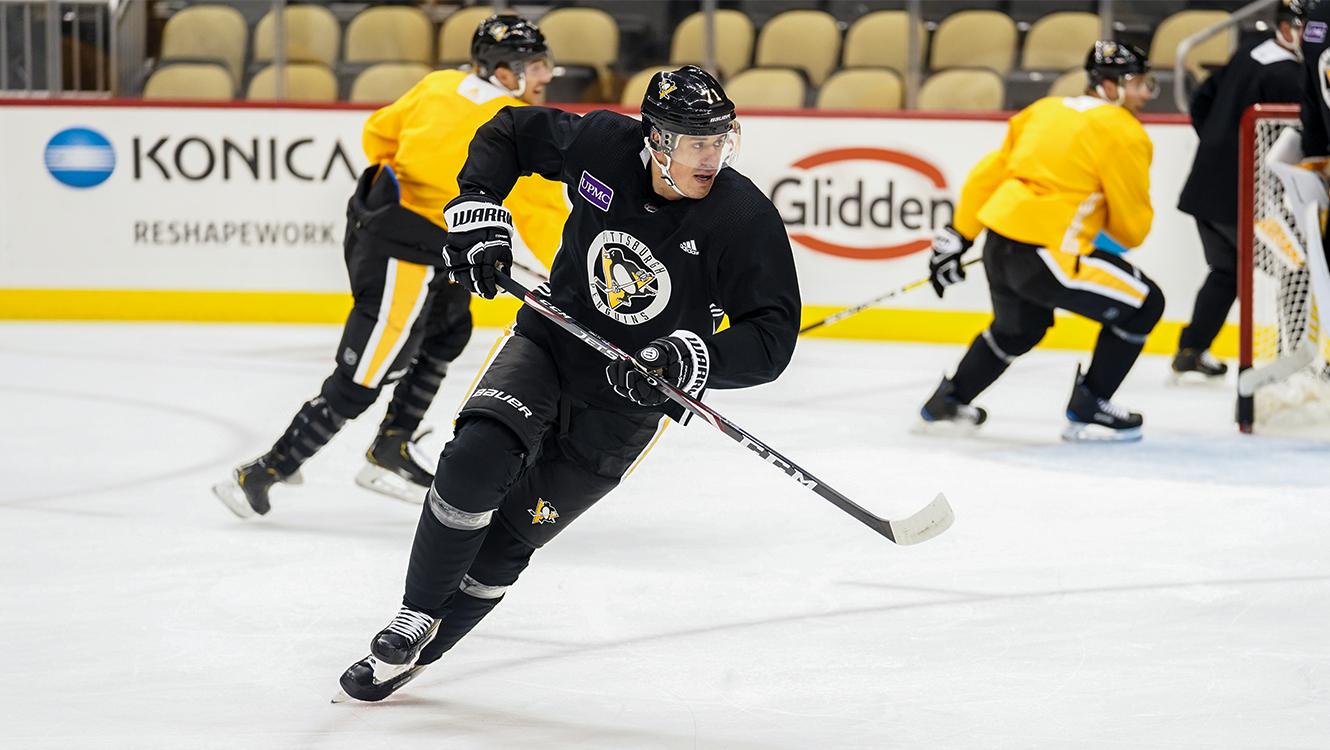 Penguins Steel Curtain
I don't even want to get started with this defense. The fact that Johnson is in the lineup, LET ALONE A SECOND LINER?! Come the heck on, Sullivan. The dude is a liability, can't handle the puck, and literally scores on his own net (I wish I was kidding). Not a fan of this at all. Third liner at MOST, if you're feeling really generous. Riikola should be pissed, if he isn't already. You're hamstringing Schultz as well, as he's going to have to babysit Johnson.
I'm content with Dumo and Tanger as the first line. Exactly how it should be, no issues there. I'll take the third line of Pettersson and Gudbranson, I'll give them the benefit of the doubt, until proven otherwise. I still think the glaring issue is Jack Johnson somehow being in the lineup.
I don't like it, I don't like it at all.
Brick Wall or Swiss Cheese?
Do we think Matt Murray is going to be a brick wall or swiss cheese? More often than not, there is no in-between. IF he somehow managed to fix the glaring hole that is his glove hand, we'll be in good shape. I think he's a fantastic goaltender if you disregard the fact that his glove hand makes Niemi Penguins-version look like an all-star.
Okay…I'm sorry, that was rude. Nothing will ever be that bad.
It all comes down to the glove hand for Murray, as it has the past couple years. I think he'll come out as a brick wall tonight, but you can only be so amazing with Jack Johnson in front of you…
SIDE NOTE: How about DeSmith going through waivers AND not being picked up? Kinda wild, the kid was great last year, so I'm not certain Jarry being the #2 is the right play. I don't think it's awful, I'm open to be surprised, but still, bold move by the Penguins.
Guess we'll just have to see how everything pans out this evening! Puck drop is 7pm.
Luckily for the Pens, they've been pretty dominant against the Sabres when it's full line-up against full line-up. 15-0-3 in the past 18 games against Buffalo, 8-0-1 at home. If the Pens can hold the top line of the Sabres (Victor Olofsson, Jack Eichel and Sam Reinhart) back, as well as Dahlin, Skinner and newcomer Jimmy Vesey, they should make it out of the night with 2 points and a solid start to their season.
PREDICTION: