Beyond the Arc
by Ben Fiore
Throughout the history of the NBA, we have seen dozens of guys who just didn't pan out in the pros that had seemingly endless potential in high school and college. These are guys who got our hopes up, and dragged us right back down to reality, showing us that they are in fact human. Though there are countless players that fit this description, I have narrowed this list down to the top 5 guys that I think have been the biggest disappointments in recent history. The criteria is that they must have been a top 3 pick in their respective draft, and had a mediocre, short, or nonexistent NBA career. Let's jump right in.
#5- With the 2nd overall pick in the 2009 NBA draft, the Memphis Grizzlies select Hasheem Thabeet out of the University of Connecticut.
Thabeet was a 7'3 monster center from Tanzania who dominated college ball while paired with Kemba Walker at UCONN where they won a national title. He was widely regarded as the next Dikembe Mutumbo. Which he had great potential to be, which then got wasted once he went to the NBA. In his 224 games played in the NBA, Hasheem only averaged a LaVar Ball caliber 2.2 PPG and 2.7 RPG with 184 total blocks. Pitiful numbers compared to his 10. 3 PPG, 8.5 RPG and 417 blocks throughout his 100 games in college. He bounced around the league for a while with no real value and is now playing overseas.
#4- And with the 3rd overall pick in the 2006 NBA draft, the Charlotte Bobcats select Adam Morrison out of the University of Gonzaga.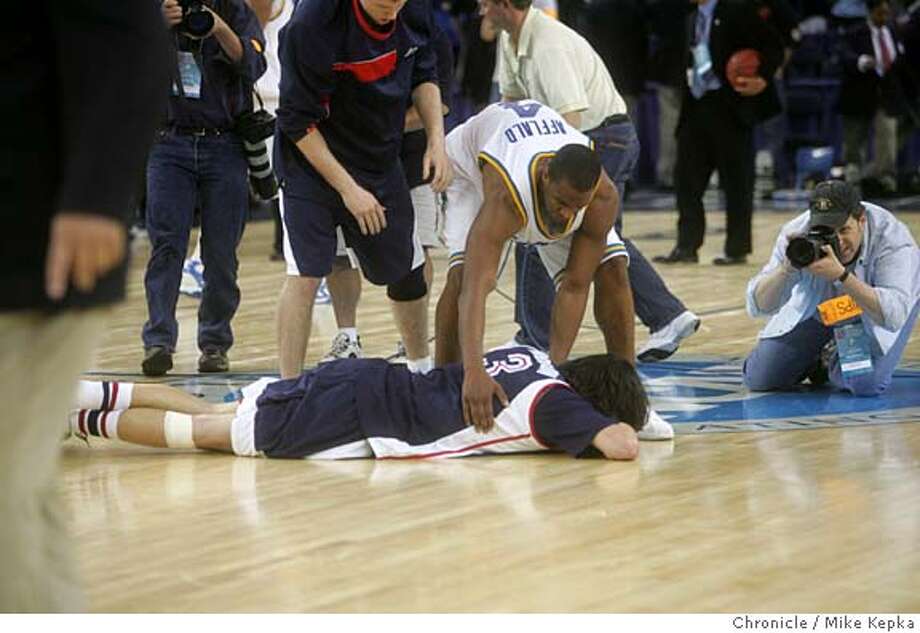 The photo above depicts Aaron Afflalo of (at the time) UCLA consoling Gonzaga's Morrison after beating them in the 2006 NCAA tournament. Really I think he was just trying to get that sobby homeless Kanker Sister (ed, edd, and eddy) off the damn court. Aside from having one of the most embarrassing moments in NCAA history, he showed a lot of NBA promise. The 6'8 forward was an aggressive player who's tenacity drew the attention of NBA scouts. He was selected by the Bobcats, where the fizzling would begin. In his 95 games at Gonzaga, weepy averaged 19.7 points per game and shot 50%. Where as in the pros he only played in 161 games between the Cats and Lakers averaging 7.5 PPG, 2 RPG and 1.4 APG. He later had a mental breakdown and left the league. I imagine he now lives a similar life to that of the homeless man Steve Buschemi plays in "Mr. Deeds".
#3- Welcome to the 2001 NBA Draft. With our first selection, the Washington Wizards select Kwame Brown out of Glynn Academy High School.
Kwame is one of the highest rated High School players in NBA history. And was the highest at the time since Kobe Bryant was drafted. Michael Jordan invested the #1 OVERALL PICK IN THIS DUDE and he straight up BLEW it. He was a 6'11 270 lb big man who had power and grit that every NBA team wanted at that time period. He was able to have a surprisingly extensive 607 game NBA career averaging 6.6 PPG and 5.5 RPG. Sadly, I think his longer career is what lands him on this list because he tried for so long to get back what people thought he had, but he just couldn't. Most people would say he is a potential #1 on this list, including Stephen A. Smith.
#2- With the 2nd overall pick in the 2003 NBA draft, the Detroit Pistons select Darko Milicic of Serbia.
This 7′ Serbian bastard seemed like a different breed of an overseas athlete. He was truly an animal, and the Pistons were hoping he would take a Dirk-like adaptation to the league. But he's on this list, so clearly he did not. He was able to suit up for 468 games in his 9 year NBA career. The reason Milicic is such a high bust is because of his lack of success in comparison to the rest of his talented draft class. That year, LeBron James was selected #1 overall. But the Pistons passed up notable names like Carmelo Anthony, Chris Bosh, Dwayne Wade and other to take Darko. This guy ended up only averaging 6 PPG and 4 RPG for a guy who was supposed to be a Hall of Fame caliber talent in scoring and rebounding. Though he was carried to a title in 2004, Darko doesn't have much to brag about. By far one of the biggest wastes ever.
#1- The moment you've all been waiting for! With the first overall pick in the 2007 NBA draft, the Portland Trailblazers select Greg Oden out of Ohio State.
As you see above here, that is Greg Oden standing next to who the Blazers could have had in Kevin Durant. But nope, the Seattle Super Sonics (now OKC Thunder) snagged him because they wanted the oaf. In all fairness, Oden was a titan of college basketball. Standing tall at 7'0 and 280 lbs accompanied with his ruggedly smooth playstyle, he was a hot commodity when healthy. In his 1 year and 32 games at Ohio State, he averaged 15.7 PPG and 9.6 RPG totaling 105 blocks as well. He was 19 and looked 49 while having such stature and genuine skill to scare most opponents. Sadly Greg's career was train-wrecked by multiple knee injuries. Even when healthy though, Greg never seemed to be the same behemoth he was at Ohio State. In his 3 years in the NBA (2008-2010, 2013), he only played in a measly 105 games. And in that handful, averaged 8 PPG and 6 RPG. Which wouldn't even be that awful if he wasn't expected to be the next Kareem. The hype built up around him, and the devastatingly short yet also long dragging career of Oden is what slots him at my #1 spot.
I thought about this list for some time and had some honorable mentions of Anthony Bennett, Jay Williams, Michael Carter-Williams and soon to be Markelle Fultz. So many athletes have wasted their potential over the years and put fans and franchises through turmoil. They also had to deal with the pressure of all of that. So for that I'm thankful I wasn't an NBA bust, finding myself on a list such as this one.