Beyond the Arc
by Ben Fiore
Above is a map of the 27 G-League teams that exist today. The Portland Trailblazers, Denver Nuggets and New Orleans Pelicans are the only teams that do not have a developmental program. Which is what the D in "D-League" stood for before Gatorade bought the rights to the league and renamed it "G- League" in 2017 after being the D-League until then since 2005. The league is probably the best thing the NBA has ever produced. I am a huge believer in this system seeing as that hockey and baseball have proven that this dynamic of a "pro-training" league works on a multitude of levels. Although this year we saw Khris Middleton become the first G-League alumni to be an All-Star selection, I feel he will be the first of many to come.
The G-League provides a stepping stone for guys who are better or too old for NCAA level play, but aren't quite ready for the big boy league yet. Some could argue that those guys could go over seas and play, but why not streamline yourself into a better potential for the greatest basketball league in the world? Many players learn how to increase their game through the G-League and honestly are better players in the league if they hadn't started there. Notable players like Khris Middleton (as previously mentioned), Seth Curry, Danny Green, Jeremy Lin, Sean Livingston, Hasan Whiteside and many others spent time in the D/G- League and are now recognizable names and faces in the NBA who clearly grew from the experience. It also provides players coming back from injury to rehab there while still hooping. The G-League also has its own draft, bringing players in that way via their NBA franchise's approval. All in all, the G-League is great for the sport of basketball and will provide us with talent for years and years to come.
This organization is booming and getting better. I have comprised a list of the top 10 current G-Leaguers that will be next to make a "fat kid off the high dive" type splash in the NBA. Now here… we… go!
#10- Isaac Bonga: This 6'9 German forward for the South Bay Lakers is undeniably a young stud. At only 19 years old, the kid shows great promise. He is lanky and agile for his size but is aggressive enough to draw fouls and take impact. He has a long shot and an arcing range to the hoop. He currently averages 12 PPG and 6.8 RPG. I expect him to get called up to the (dying) Lakers within the next 2-3 Years.
#9- Malachai Richardson: The 6'4 Syracuse alumni guard for the Raptors 905 is a guy who has been flirting back and forth with NBA like it's his high school crush. He has seen some action with the Kings and Raptors, but still needs a little more time to keen in his decision making. He shows me a lot of traits of DeMar DeRozan actually. This kid has promise. He is fast, fearless and a great ball handler as long as he can focus more on his passes and reading the defense. With the production of 21 PPG, he can bring a lot of talent to a pro roster. I have a strong feeling he will at least be an NBA reserve next year.
#8- PJ Dozier: PJ is a guy who can play strong as a small forward or play back as a 2 guard. The guy is versatile. He was born just 8 days after me, and balls out like the classic street court guy who plays "winner stays" and ends up on the court all day. The guy is averaging 21.3 PPG and about 8 assists every game. I can definitely see him getting to Boston from the Maine Red Claws soon to add to that young core they've built.
#7- Chris Chiozza: Cheese just recently got traded from the Capital City Go Go to the Rio Grande Valley Vipers of the Houston Rockets organization. He is best known for his buzzer beater in the NCAA tournament last year for the Florida Gators. He is a small PG, but extremely efficient. He has excellent handles and the purest of jump shots. The attribute most notable for him is his ability to drive the lane no matter what the size disadvantage is. He can weave and sneak through and end up getting an acrobatic lay up to fall. He is my most underrated pick on this list, and I see him being a key 6th man bench guard wherever he ends up in the NBA.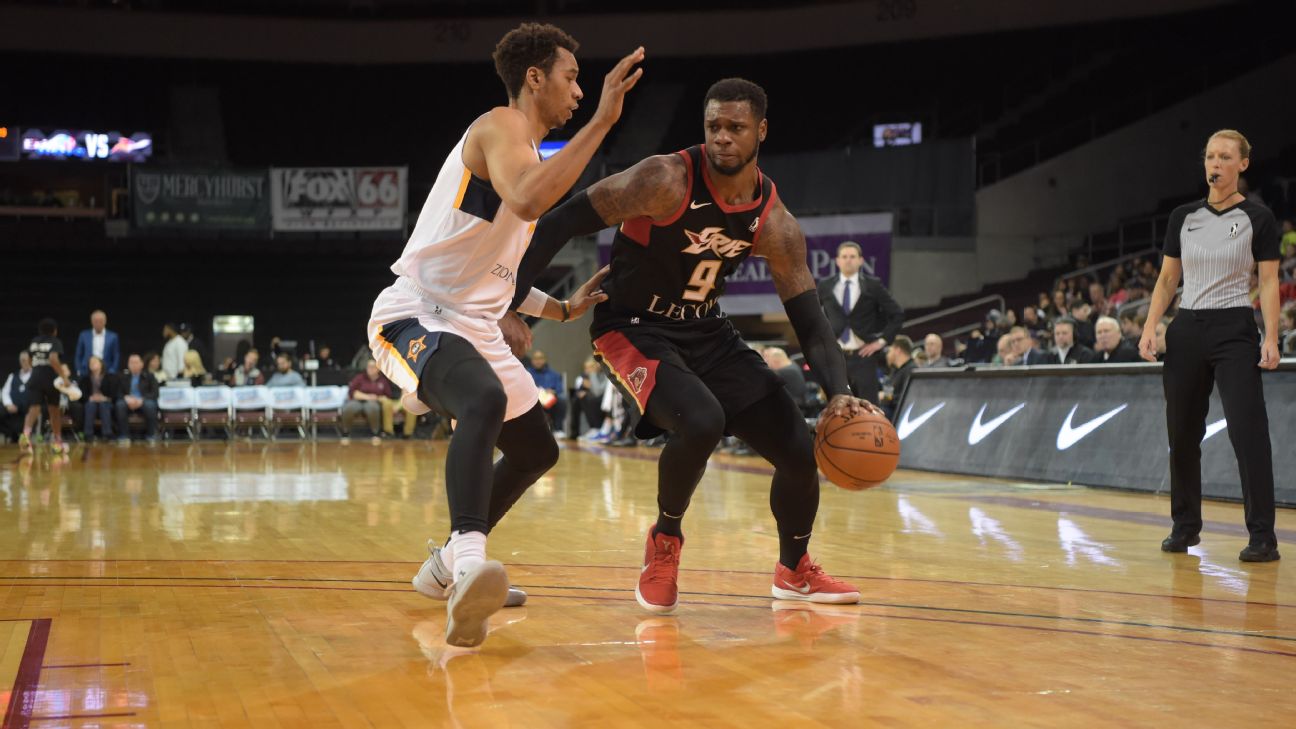 #6- Terrence Jones: Remember him? Jones was a stud at Kentucky, and that transferred for a short time in the NBA. He had stints with the Rockets and Pelicans, and is someone I'm surprised isn't still at that top level. He has proven he is better than the G-League averaging about 24 and 10 a game. It's only a matter of time before the Hawks (who could desperately use him) or a smarter team bring him back where he belongs… in the NBA.
#5- Isaiah Hartenstein: As goofy as this dude might look, the 7′ German beast might be the second coming of Pistons legend Lambier. He drops 20 points and snags a whopping 15 rebounds PER GAME. This guy is an animal. He's got confidence and toughness that most players would find aggravating, but as teammate you would love it. He is so powerful and controlling and portrays the play style of a classic big man who has a slight repertoire of handles too. This dude will be a starting center in the NBA within 3 years, just watch.
#4- Isaiah Whitehead: This member of the Grand Rapids Drive has played in the NBA for the Brooklyn Nets. Whitehead plays a lot like a Dion Waiters caliber athlete. He can shoot and dish the rock, but is an excellent defensive guard. He averages 1.5 steals a game and is great in transition. He is aggressive and his attitude is mind rattling for players he defends. This guy just loves the game and is one of the hardest working two way players out there.
#3- Rob Gray: As much as it pains me to put him this high, the guy can hoop. As stupid as his man bun and girlish attitude can be, he is consistent. He can surprise for a big game here and there. His stats don't jump out at you, but he is consistently good and I know the Mad Ants appreciate that. He was the 33rd overall pick in the 2018 NBA draft by the Houston Rockets out of the University of Houston where he became Ian Moorhead's "favorite" player. His persona and constant success will lead him to be a well known antagonist in the NBA soon enough.
#2- Marcus Thornton: Now I know he is a veteran and played quite a bit as a bench player in the NBA. He was sent down to the G-League to help polish his game and it has worked. He is working the G- League for 23 PPG, 1.6 SPG and shooting 41% from 3 point range at 31 years of age. I think he is more than ready to get back into the swing of things in the NBA despite not necessarily looking the part. By 2020, he will be an NBA guard again and a potential 6th man of the year awardee in the future.
#1- Jordan McRae: One quick question, WHY IS HE STILL IN THE G-LEAGUE?!?! I will not understand how he's not an NBA athlete right now, and how teams are letting him waste his time there. The Capital City Go Go and Washington Wizards should thank go while they still can that this man is a piece of their franchise while they still can. The 6'5 Tennessee alumni guard is putting up 31 PPG, 5 RPG and 4 APG while being the most consistent scorer in the G-League, while being named to the All G- League Team this year. The Cavaliers done goofed up when they drafted him and let him slip away cuz man oh man could those sacks of shit use his talent now. McRae is the complete package. He can dribble, dunk, shoot, drive, defend, circus lay ups, push the pace and most importantly come in clutch. He owns two of the top 4 highest individual scoring games this year in the entire G-League. This man is ready now and has been ready. The NBA better watch out, because he's coming back to the league soon with something to prove and I can't wait. Mark my words, if anyone has the best chance to be the next Khris Middleton and make it to an NBA All-Star game from the G-League, it's Jordan McRae.
Welp, I hope you were able to learn something from all this. Honestly the G-League is more entertaining than you'd expect. Our next stars of the NBA are waiting for us in there and I can't wait to see how it grows into a basketball player factory. Much more to come, and we should all be expecting it.