In an effort to continue the linguistic archive that is the TFTB Blog up to date, I woke with the ambition of a million writers…and the writer's block of a million writers. Come on Deke think…what's one thing you can blog about in your sleep?
Welcome to the Best Beers in Nashville blog! It's topical, the people are asking for it and I'm extremely positive that this will lead to no one hating this blog OR bringing up the predetermined enormous amount of potential typos we could have.
Nashville breweries are awesome. From East to Germantown to the Nations, the city limits remind me of Pittsburgh in its ability to be 20 minutes south and still say you're in Nashville. There's a solid mix of breweries that have their own kitchen and ones that bring in food trucks but I think the factor I enjoy the most is how drastically different they all tend to be.
A small mention before we get started; only one of these beers is NOT brewed in Nashville. My thought process around making such a crucial decision as to include this beer is because if people visit, I'm taking them to that brewery for that beer. Thank Fat Heads in South Side. Yeah, I bet you thought Fat Heads was a Pittsburgh brewery until right now huh.
Nope.
From Ohio.
How good does the bumbleberry taste now nerd?
DEKE'S BEST BEERS OF NASHVILLE
5. Queen's Legacy from Tennessee Breworks
Caribbean-Style Stout ABV 7.6%
Description: Celebrating Community Through Craft Beer. The beer is brewered with 100 percent malted millet, historically the same train used in Africa to produce alcoholic beverages.
This beer stumbled its way into my life on a random Saturday this past month on my first visit to Tennessee Brew Works, a smaller brewery in the perfect location for a solo bite to eat. Traditionally if you watch any TFTB content you'd know that Greg Malek is the heavy beer person, filling his body with Porter's and Stout's that sound like they were made by Willy Wonka himself.
For me, the Queen's Legacy was the perfect balance of flavor and after taste. I was immediately drawn in by the description and story around it. I'm a massive sucker for buzz words, so throwing in "Whiskey Barrel", "Dry Coffee" and "7.6%" really did me in from the count.
TBW also has this SMACKING burger on the menu but I'll save that for another day.
4. Smith & Lentz Mosaic IPA
American IPA 6.8% ABV
Description – A west coast style of IPA aggressively hopped with Mosaic. A very unique highly sought-after hop varietal which is reminiscent of blueberry, grapefruit, and pine.
If we're talking mandatory location for friends in town, it's absolutely Smith & Lentz over in East Nashville. S&L probably has one of the more minor locations in terms of seating and environment, but what they lack in tacky bar games they make up for in beer and pizza.
This is by far my favorite pizza in Nashville and honestly, it isn't that close. There are a few spots down here that are delicious but taking a pizza to prom is an experience you have to taste.
The Mosaic IPA is delicious, crispy, and flavorful and although it holds a place in my heart as one of the first beers I had in Nashville, I truly think it holds up taking out all of the external factors that make me love this beer.
3. Black Abbey Brewing Tennessee IPA
Dry Hopped India Pale Ale 5.5% ABV
An IPA for the fly-over states. Delicious hop flavor of a West Coast IPA and the juicy aroma of a New England IPA.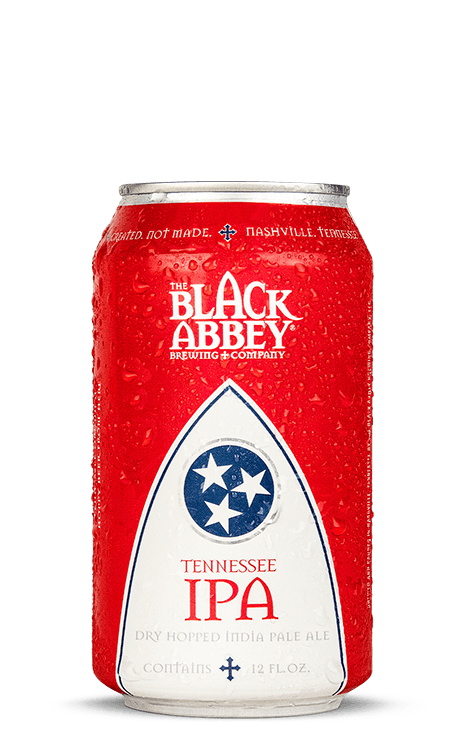 At every beer lover's peak the question arises; Am I more of an East Coast IPA or a West Coast IPA person? Personally, I feel as if I lean heavily towards New England IPA's anymore due to that JUICE, but before I dove into hazy's I was absolutely a West Coast IPA Guy.
The nice thing about this mandatory decision is every once in a while a beer finds its way into your heart that just scratches all the needed itches. Black Abbey is by far the most unique brewery in Nashville and has built a somewhat cult following, bringing people truly together in a pub-style fashion that most breweries in today's fast-paced beer world seem to just slightly miss. They have a beer for every style that checks all the needed boxes to love a brewery, but the Tennessee IPA just does it for me.
2. Monday Night Brewing Slap Fight
India Pale Alex 5.8% ABV
Slap Fight will woo you in a West Coast-style malt bill, but slaps you across the face with its tropical hop profile.
Monday Night Brewing recently opened a Nashville location although their brewing operations are still stationed in Atlanta. They have one of the coolest tap-rooms in Nashville located in the ever-expanding Germantown and it's by far one of my favorite locations to take visitors to.
They have a few beers that are near and dear to my heart such as the Taco Tuesday, but Slap Fight continues to hold the crown. Arguably the perfect out and about beer, Monday Night killed it with this beer. Hints of papaya, orange, and grapefruit are instantly noticeable and as I mentioned before, I'm a sucker for some buzz words. Papaya is one of them despite having literally no clue what a papaya looks like.
Arguably the best part about this beer lies in the description. "Present this beer to a friend. If he does not drink it immediately, slap him as hard as you can. Repeat." Protect your face Greg Malek.
1. Bearded Iris Homestyle IPA
India Pale Ale 6% ABV
This heavily rated, mosaic-only IPA softly beckons you to remember where you came from while giving you just enough of a ripe citrus kick to strive for where you want to go.
If the description alone didn't sell you, the Homestyle's popularity in Nashville absolutely will. Almost every beer fan I've met has conceited that the Homestyle reigns supreme in the beer community down here. A soft and juicy IPA that stands more on the side of an ale, the Homestyle is the perfect beer for any situation. Visitors beware – I may take you to another brewery first, but you will absolutely hear about the homestyle the whole time.
Bearded Iris has two locations, both of which hold a very specific attitude which I love. In Germantown, the brewery feels a little bit like a zombie apocalypse shelter but provides enough charm and warmth that you feel right at home. In Sylvan Park, they've turned the brewery concept into somewhat of a speakeasy vibe adding a bowl of ramen I've only heard good things about to the menu.
The beer is refreshing and comfortable, the type of beer you'd give to someone who "doesn't really like beer" to get them to give it an honest shot. There are a number of delicious beers in Nashville, but none compare to the Homestyle IPA from Bearded Iris…except maybe the DOUBLE Homestyle.